Alan Brudner
Albert Abel Professor of Law Emeritus
University of Toronto
Since 1945, there have been two waves of Anglo-American writing on Hegel's political thought. The first defended it against works portraying Hegel as an apologist of Prussian reaction and a theorist of totalitarian nationalism. The second presented Hegel as a civic humanist critic of liberalism in the tradition of Rousseau. The first suppressed elements of Hegel's thought that challenge liberalism's individualistic premises; the second downplayed Hegel's theism. This book recovers what was lost in each wave. It restores aspects of Hegel's political thought unsettling to liberal beliefs, yet that lead to a state more liberal than Locke's and Kant's, which retain authoritarian elements. It also scrutinizes Hegel's claim to have justified theism to rational insight, hence to have made it conformable to Enlightenment standards of admissible public discourse. And it seeks to show how, for Hegel, the wholeness unique to divinity is realizable among humans without concession or compromise and what role philosophy must play in its final achievement. Lastly, we are shown what form Hegel's philosophy can take in a world not yet prepared for his science. Here is Hegel's political thought undistorted.
---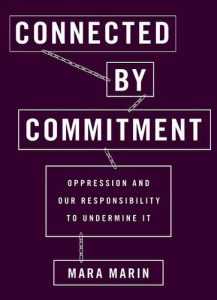 Connected by Commitment: Oppression and Our Responsibility to Undermine It (Oxford 2017)
Mara Marin
Postdoctoral Affiliate, Centre for Ethics
University of Toronto
Saying that political and social oppression is a deeply unjust and widespread condition of life is not a terribly controversial statement. Likewise, theorists of justice frequently consider our obligation to not turn a blind eye to oppression. But what is our culpability in the endurance of oppression?
In this book, Mara Marin complicates the primary ways in which we make sense of human and political relationships and our obligations within them. Rather than thinking of relationships in terms of our intentions, Marin thinks of them as open-ended and subject to ongoing commitments. Commitments create open-ended expectations and vulnerabilities on the part of others, and therefore also obligations. By this rationale, our actions sustain oppressive or productive structures in virtue of their cumulative effects, not the intentions of the actors.When we violate our obligations we oppress others.
Over the chapters of her book, Marin applies her model of commitment to caregivers, marriage, and bargaining power between labor and employers, and examines three types of social relations: political-legal relations, intimate relations of care, and work relations. By linking habitual action to obligation, Marin argues that we should see our responsibilities within such relationships as political and as creating norms for behavior over time. Commitment both points to the support our actions give to oppressive structures and to the ways in which our actions can weaken the same structures. Connected by Commitment examines our obligations to transform structures of oppression and offers commitment as a model for solidarity across race, gender, and class.
---
The Death and Life of the Urban Commonwealth
By: Margaret Kohn
The city is a paradoxical space, in theory belonging to everyone, in practice inaccessible to people who cannot afford the high price of urban real estate. Within these urban spaces are public and social goods including roads, policing, transit, public education, and culture, all of which have been created through multiple hands and generations, but that are effectively only for the use of those able to acquire private property. Why should this be the case?
As Margaret Kohn argues, when people lose access to the urban commons, they are dispossessed of something to which they have a rightful claim – the right to the city. Political theory has much to say about individual rights, equality, and redistribution, but it has largely ignored the city. In response, Kohn turns to a mostly forgotten political theory called solidarism to interpret the city as a form of common-wealth. In this view, the city is a concentration of value created by past generations and current residents: streets, squares, community centers, schools and local churches. Although the legal title to these mixed spaces includes a patchwork of corporate, private, and public ownership, if we think of the spaces as the common-wealth of many actors, the creation of a new framework of value becomes possible. Through its novel mix of political and urban theory, The Death and Life of the Urban Commonwealth proposes a productive way to rethink struggles over gentrification, public housing, transit, and public space.
Margaret Kohn is Professor of Political Science at the University of Toronto.
---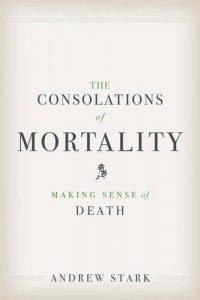 The Consolations of Mortality: Making Sense of Death
By: Andrew Stark
"A deeply absorbing book, laced with humor and wisdom, that confronts the ultimate question – if we must die, how should we think about living?  Andrew Stark's answers will surprise you."
Mark Lilla, Columbia University
"Consolations of Mortality is a deeply literary engagement with a subject that will ever bedevil us. It persuasively — and unsentimentally — points the way to peace and even gratitude for the inevitable."
Michael Greenberg, author of Hurry Down Sunshine
Andrew Stark is a professor of strategic management and political science at the University of Toronto. He has been a policy advisor in the Office of the Prime Minister of Canada, a Guest Scholar at the Brookings Institution, a Fellow at the Safra Center for Ethics at Harvard, a Fellow at the Woodrow Wilson International Center for Scholars in Washington and a Fulbright Senior Research Scholar at Columbia University's School of International and Public Affairs.
---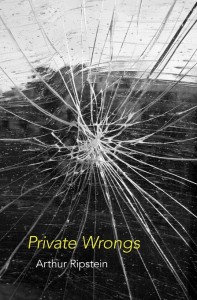 Private Wrongs
By: Arthur Ripstein
A waiter spills hot coffee on a customer. A person walks on another person's land. A moored boat damages a dock during a storm. A frustrated neighbor bangs on the wall. A reputation is ruined by a mistaken news report. Although the details vary, the law recognizes all of these as torts, different ways in which one person wrongs another. Tort law can seem puzzling: sometimes people are made to pay damages when they are barely or not at fault, while at other times serious losses go uncompensated. In this pioneering book, Arthur Ripstein brings coherence and unity to the baffling diversity of tort law in an original theory that is philosophically grounded and analytically powerful.
Ripstein shows that all torts violate the basic moral idea that each individual is in charge of his or her own person and property, and never in charge of another individual's person or property. Battery and trespass involve one person wrongly using another's body or things, while negligence injures others by imposing risks to them in ways that are inconsistent with their independence. Tort remedies aim to provide a substitute for the right that was violated.
As Private Wrongs makes clear, tort law not only protects our bodies and property but constitutes our entitlement to use them as we see fit, consistent with the entitlement of others to do the same.
Arthur Ripstein is Professor of Law and Philosophy at the University of Toronto. He was appointed to the Department of Philosophy in 1987, promoted to full professor in 1996, and appointed to the Faculty of Law in 1999. He received a doctorate in philosophy from the University of Pittsburgh, a degree in law from Yale, and an undergraduate degree from the University of Manitoba. Professor Ripstein's research and teaching interests include torts, criminal law, legal theory, and political philosophy.
---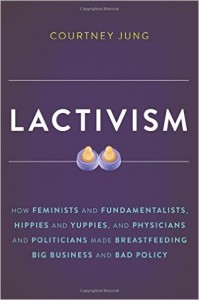 Lactivism: How Feminists and Fundamentalists, Hippies and Yuppies, and Physicians and Politicians Made Breastfeeding Big Business and Bad Policy
By: Courtney Jung
Is breast really best? Breastfeeding is widely assumed to be the healthiest choice, yet growing evidence suggests that its benefits have been greatly exaggerated. New moms are pressured by doctors, health officials, and friends to avoid the bottle at all costs—often at the expense of their jobs, their pocketbooks, and their well-being.
In Lactivism, political scientist Courtney Jung offers the most deeply researched and far-reaching critique of breastfeeding advocacy to date. Drawing on her own experience as a devoted mother who breastfed her two children and her expertise as a social scientist, Jung investigates the benefits of breastfeeding and asks why so many people across the political spectrum are passionately invested in promoting it, even as its health benefits have been persuasively challenged. What emerges is an eye-opening story about class and race in America, the big business of breastfeeding, and the fraught politics of contemporary motherhood.
Courtney Jung  works on identity and identity formation at the intersection of comparative politics and contemporary political theory. Her books engage normative debates about liberalism, multiculturalism, and democratic participation through research into political identity formation, mainly in South Africa and Mexico.
---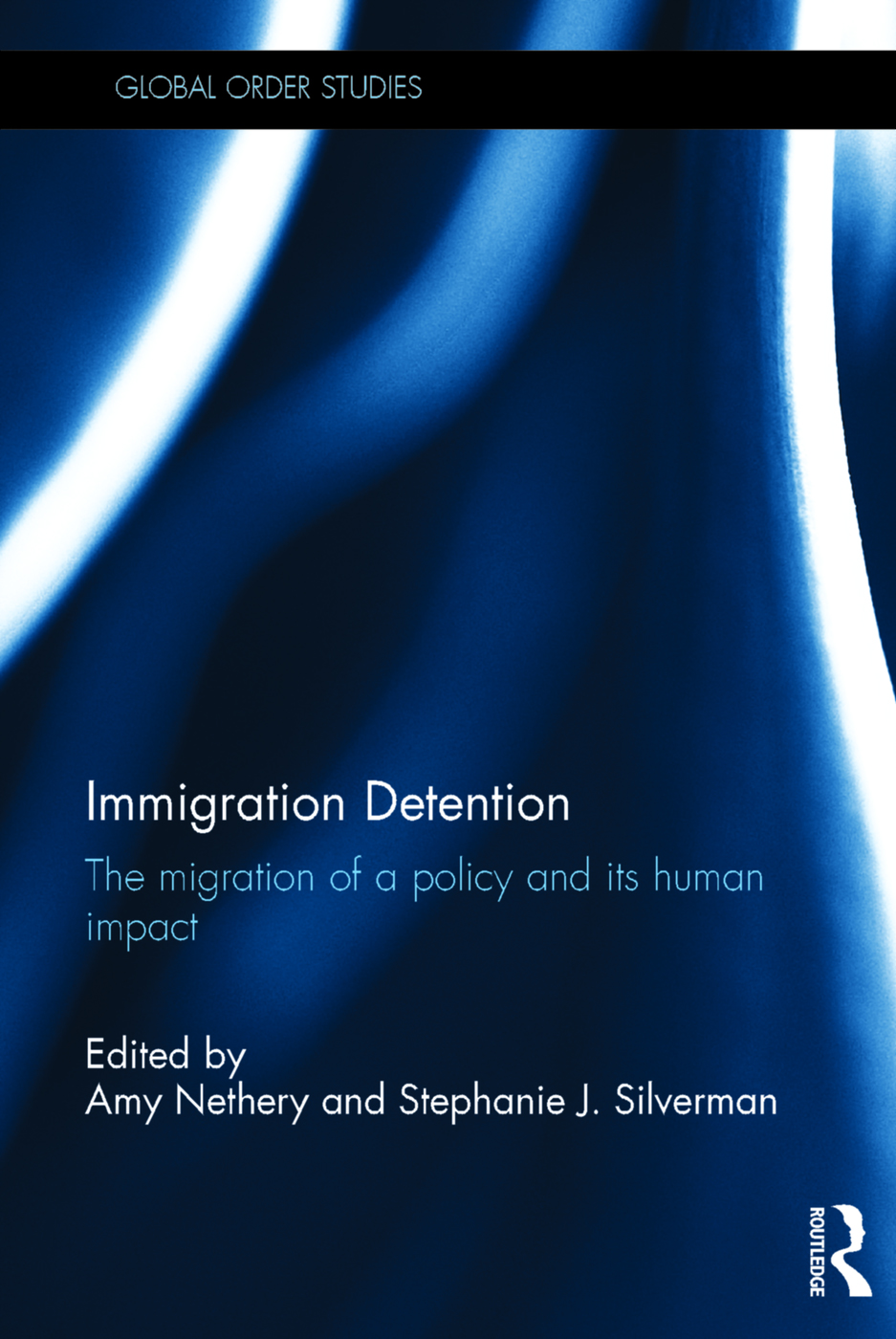 Immigration Detention: The Migration of a Policy and Its Human Impact
Edited By: Amy Nethery, Stephanie Silverman
Before the turn of the century, few states used immigration detention. Today, nearly every state around the world has adopted immigration detention policy in some form. States practice detention as a means to address both the accelerating numbers of people crossing their borders, and the populations residing in their states without authorisation.
This edited volume examines the contemporary diffusion of immigration detention policy throughout the world and the impact of this expansion on the prospects of protection for people seeking asylum. It includes contributions by immigration detention experts working in Australasia, the Americas, Europe, Africa and the Middle East. It is the first to set out a systematic comparison of immigration detention policy across these regions and to examine how immigration detention has become a ubiquitous part of border and immigration control strategies globally. In so doing, the volume presents a global perspective on the diversity of immigration detention policies and practices, how these circumstances developed, and the human impact of states exchanging individuals' rights to liberty for the collective assurance of border and immigration control.
This text will be of key interest to scholars, students and practitioners of immigration, migration, public administration, comparative policy studies, comparative politics and international political economy.
Stephanie Silverman is the SSHRC postdoctoral fellow at the Graduate School of Public and International Affairs, University of Ottawa, and Adjunct Professor in Ethics, Society & Law at Trinity College, University of Toronto.
---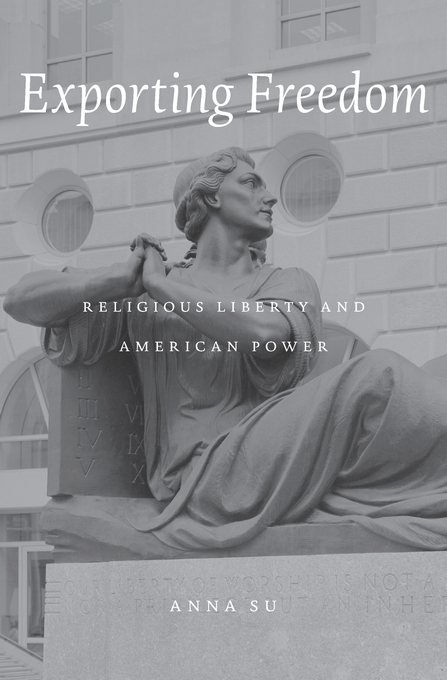 Exporting Freedom
By: Anna Su
Religious freedom is widely recognized today as a basic human right, guaranteed by nearly all national constitutions. Exporting Freedom charts the rise of religious freedom as an ideal firmly enshrined in international law and shows how America's promotion of the cause of individuals worldwide to freely practice their faith advanced its ascent as a global power.
Anna Su traces America's exportation of religious freedom in various laws and policies enacted over the course of the twentieth century, in diverse locations and under a variety of historical circumstances. Influenced by growing religious tolerance at home and inspired by a belief in the United States' obligation to protect the persecuted beyond its borders, American officials drafted constitutions as part of military occupations—in the Philippines after the Spanish–American War, in Japan following World War II, and in Iraq after 2003. They also spearheaded efforts to reform the international legal order by pursuing Wilsonian principles in the League of Nations, drafting the United Nations Charter, and signing the Helsinki Accords during the Cold War. The fruits of these labors are evident in the religious freedom provisions in international legal instruments, regional human rights conventions, and national constitutions.
In examining the evolution of religious freedom from an expression of the civilizing impulse to the democratization of states and, finally, through the promotion of human rights, Su offers a new understanding of the significance of religion in international relations.
---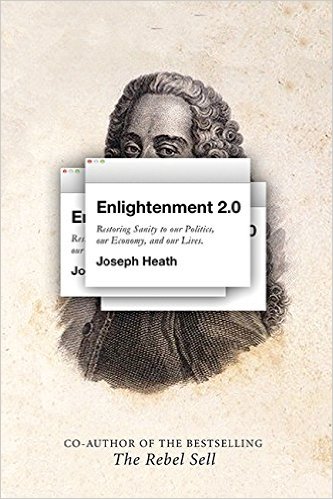 Enlightenment 2.0
By: Joseph Heath
In Enlightenment 2.0, bestselling author Joseph Heath outlines a program for a second Enlightenment. The answer, he argues, lies in a new "slow politics." It takes as its point of departure recent psychological and philosophical research, which identifies quite clearly the social and environmental preconditions for the exercise of rational thought. It is impossible to restore sanity merely by being sane and trying to speak in a reasonable tone of voice. The only way to restore sanity is by engaging in collective action against the social conditions that have crowded it out.
Joseph Heath is a Professor of Philosophy at the University of Toronto. He is the author of four books, including The Efficient Society, which was a national bestseller, and Filthy Lucre. He is the co-author of the international bestseller The Rebel Sell.
---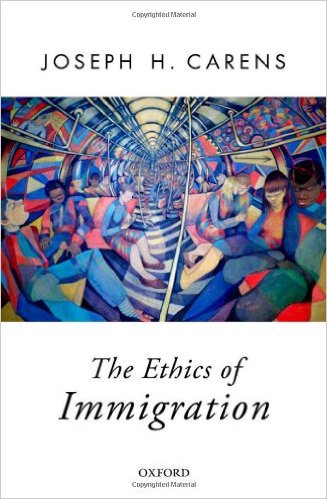 The Ethics of Immigration
By: Joseph H. Carens
In his book, The Ethics of Immigration, Prof. Carens argues that there are ethics and morals that authorities should consider when making decisions regarding who gets in, who doesn't, and what rights immigrants who do get in should have.
Joseph H. Carens, Ph.D., is Professor of Political Science at the University of Toronto. He is the author of Culture, Citizenship, and Community, which won the 2002 C. B. Macpherson Award, and of Equality, Moral Incentives and the Market.
---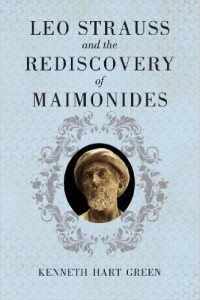 Leo Strauss and the Rediscovery of Maimonides
By: Kenneth Hart Green
In Leo Strauss and the Rediscovery of Maimonides, Kenneth Hart Green explores the critical role played by Maimonides in shaping Leo Strauss's thought. In uncovering the esoteric tradition employed in Maimonides's Guide of the Perplexed, Strauss made the radical realization that other ancient and medieval philosophers might be concealing their true thoughts through literary artifice.
Kenneth Hart Green is associate professor in the Department for the Study of Religion at the University of Toronto. He is the author of Jew and Philosopher: The Return to Maimonides in the Jewish Thought of Leo Strauss.
---
The Best Things in Life: A Guide to What Really Matters (Philosophy in Action)
By: Thomas Hurka
In The Best Things in Life, distinguished philosopher Thomas Hurka takes a fresh look at these perennial questions as they arise for us now in the 21st century. Should we value family over career? How do we balance self-interest and serving others? What activities bring us the most joy? While religion, literature, popular psychology, and everyday wisdom all grapple with these questions, philosophy more than anything else uses the tools of reason to make important distinctions, cut away irrelevancies, and distill these issues down to their essentials.
Thomas Hurka is a Canadian philosopher who holds the Jackman Distinguished Chair in Philosophical Studies at the University of Toronto. He was elected a Fellow of the Royal Society of Canada in 2001.
---
Political Philosophy: What It Is and Why It Matters
By: Ronald Beiner
What is political philosophy? Ronald Beiner makes the case that it is centrally defined by supremely ambitious reflection on the ends of life. We pursue this reflection by exposing ourselves to, and participating in, a perennial dialogue among epic theorists who articulate grand visions of what constitutes the authentic good for human beings. Who are these epic theorists, and what are their strengths and weaknesses? Beiner selects a dozen leading candidates: Arendt, Oakeshott, Strauss, Löwith, Voegelin, Weil, Gadamer, Habermas, Foucault, MacIntyre, Rawls, and Rorty. In each case, he shows both why the political philosophies continue to be intellectually compelling and why they are problematic or can be challenged in various ways.
Ronald Beiner is a professor at the Department of Political Science at the University of Toronto.
---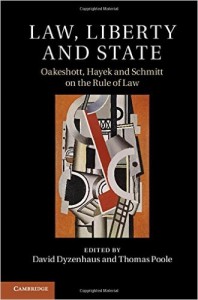 Law, Liberty and State: Oakeshott, Hayek and Schmitt on the Rule of Law
By: David Dyzenhaus (Editor), Thomas Poole (Editor)
Oakeshott, Hayek and Schmitt are associated with a conservative reaction to the 'progressive' forces of their time. Law, Liberty and State considers all three together at a time when political theorists, lawyers and theorists of international relations are increasingly turning to the foundational texts of twentieth-century thought.
David Dyzenhaus is Professor of Law and Philosophy at the University of Toronto and a Fellow of the Royal Society of Canada.
Thomas Poole is an Associate Professor and Reader in Law at the London School of Economics and Political Science, where he works mainly in the field of public law and constitutional theory.