Conferences, Race, Ethics + Power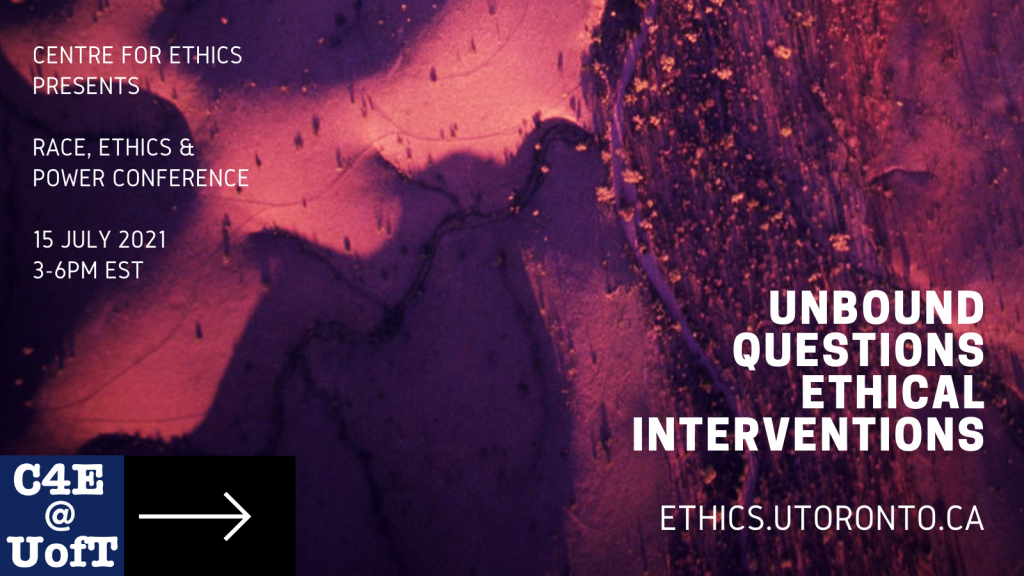 Unbound Questions / Ethical Interventions (Race, Ethics + Power Capstone Event)
This gathering brings together undergraduate and graduate fellows as well as research associates as they share their current scholarly work as part of the Race, Ethics, and Power project. As an interdisciplinary collective of researchers, the presentations offer interventions across a variety of fields of study to address ethical concerns regarding methodology and practice.
Session I: Ethical Geography and Itinerancy
Chelsey Liu, Ethics in Research: Exploring Indigeneity
My research will centre around the ethics of research in Indigenous communities, and the ways it should be conducted in order to preserve and strengthen Indigenous ecological knowledge and culture. Drawing from guidelines such as Linda Smith's "Decolonizing Methodologies", which uses Kaupapa Maori as an approach to culturally appropriate research protocols and methodologies, I want to evaluate the impacts of colonial research and how to de-colonialize current Indigenous ecological research conducted for extraction and the expansion of Western knowledge. When it comes to Indigenous ecological knowledge, how can extractivism occur with knowledge? How should Indigenous ecological knowledge research be conducted when considering the complex cultural layering of principles which have emerged through colonization? By engaging with various methodologies, I endeavour to explore the importance of research in establishing self-determination, legitimacy, and resistance for Indigenous peoples.
Andrew M. Thomas, Ontological Abduction: Black Geographies & Bodies as Problem of Thought within Germany
This research project is a thematic literature review of the source of and reality of anti-Black racism within present-day Germany. It explores the early sources of anti-or proto-anti-African (Black) racism that stretches back to antiquity, found in medieval cartography, in medieval literature, and within modernity's school of thought. Specifically, it explores proto-anti-African thought or rather cartographical race or racism that Europeans projected onto the African continent and its people that continues to haunt people of African heritage in Germany.
Christopher Smith, Route Thoughts: Wandering, Intuition, Itinerancy
Itinerancy denotes various forms of movement and mobility and acquires manifold meanings through its synonyms such as "wandering," "roaming," and so on. In this presentation I opt for a notion of itinerancy to assemble a language to illuminate how Black queer diasporic performances of dissent disrupt and/or augment Pride festivities to offer alternate routes for Black LGBT+ communion. Thus, itinerancy or an "itinerant hospitality" enables a grammar that attends to moments of "surprise" instantiated by Black LGBT+ presence from an "elsewhere" that falls outside of and yet contests dominant historical accounts of queer liberation and its Black queer and Trans* progenitors.
Session II: Colonial Failure & Systems Analysis
Kamilah Ebrahim, The Limits of Anti-Trust Regulation: Refocusing Towards Epistemic Power
The current monopoly over data production, collection and information platforms centralizes epistemic power and the capacity to accumulate economic capital through data. At the same time this process dispossesses marginalized and racialized communities from the data they are producing. The result is a dynamic that mirrors the dispossession created through colonialism in a new form of "techno-imperialism". Current debates surrounding monopoly structures in technology tend to focus on the economic effects rather than the epistemic consequences, this talk will refocus this conversation and consider the pros and cons of anti-trust policy solutions currently being considered in Canada.
Vasuki Shanmuganathan, Colonial Failure and Race in Paul Heyse's Medea
In the nineteenth century, European imperialists were long used to being at a crossroad with biopolitics reshaping constructions of race, global abolitionism, and violent uprisings in the colonies. Studying debates in a post-abolitionist Germany and its literary salons and parliaments suggests ethics became central to deliberations on the conditions of racialized people albeit through the understanding of a relational and comparative approach to other imperialists.
I demonstrate how German literature contributed to writing race histories within a global narrative of race, and illustrate how works were often influenced by and compared to the Second French Empire. I examine the novella Medea (1898) and early poem Urica (1852) by German writer Paul Heyse as an example where this relational and comparative mode of ethics is seen as initially hopeful. Heyse uses this understanding as a departure point to criticize genealogies of violence against the racialized body. He does this by casting the Black woman as protagonist in both his works and living legacies of violence. Through mentions of their family lineage, children, and other modes of reading gendered bodies, the reader learns that a sense of ethics among Europeans was entangled with economic survival of imperialists and less so about the changes abolitionists long called for.
---
Kamilah Ebrahim is a Master of Information candidate concentrating in Human Centred Data Science at the University of Toronto. Kamilah recently graduated from the University of Waterloo with an Honours Bachelor of Arts in Economics. She is also a graduate fellow at the University of Toronto Center for Ethics where she hopes to explore her research interests in the intersection of technology and the political economies of data collection globally and locally. When Kamilah is not in class or working on her research, she enjoys finding new spots for gnocchi in Toronto.
Chelsey Liu is an undergraduate student at UofT studying Political Science, Environmental Studies, and a minor in Environmental Ethics. This year, she is an undergraduate Fellow with the Race, Ethics, and Power project. Through her position as a fellow, she hopes to broaden her knowledge and research interests on the intersectionalities between climate justice, race, and ethics, and exploring the ways that political governance and hegemonic structures of racial inequality shape societal movements. During her free time, Chelsey enjoys snacking while curled up on the couch with a good book/movie.
Dr. Vasuki Shanmuganathan is a Research Associate at the Centre for Ethics with the Race, Ethics, and Power (REP) Project. Her research is at the intersections of race, colonialism, and health. As a Research Lead with the SHADES study supported by Women's College Hospital, she examines the impact of shadeism across racialized communities. Previously, she studied what constitutes promising care practices in Canadian Long Term Care as part of a national research team with YU-CARE at the Faculty of Health, York University. Her current project looks at concepts of race and health in the colonial context and its impact on current policies. She is also the founder of the Tamil Archive Project (TAP).
Dr. Christopher Smith (they/them) is a Research Associate at the Center for Ethics at University of Toronto with the Race, Ethics, and Power Project. They received their Ph.D. from the Dept. of Social Justice Education – Ontario Institute for Studies in Education (OISE) / University of Toronto in 2020. Their research interests reside in the productive interstices of Black Diaspora Cultural Studies, Black expressive cultures and practices, Queer and Feminist Theory, including Post-Colonial and Decolonial studies.
Andrew M. Thomas (he/him) is a queer Jamaican-born Canadian settler who has lived much of his life in Canada. However, he now splits his time between Munich, Germany, and Toronto, Canada with his partner and two cats, Reds and Fats, while pursuing graduate studies in human geography at the University of Toronto, St. George. His interest spans various subjects that include, but is not limited to, Black feminist thoughts, post-colonialism, queer colour of critique, intersectionality, native studies, philosophy of knowledge, ontology, and affect theory. Through the Race, Ethics, and Power fellowship, he hopes to interrogate the ethics of understanding racism as primarily, as advanced by its advocates, as rooted in implicit bias, through which racism and racial hegemony can be dismantled through the implicit bias test, as taken up by many institutions both here in North America, and Europe. During the summers, he works as an English camp counsellor and as an ESL facilitator in Munich, Germany, working with children, teens, and adults, and where he has lived and worked for the last twelve years.
---
➨ please register here
★ This is an online event. It will be live streamed on the Centre for Ethics YouTube Channel on July 15, 2021. Channel subscribers will receive a notification at the start of the live stream.
► To stay informed about other upcoming events at the Centre for Ethics, opportunities, and more, please sign up for our newsletter.
Thu, Jul 15, 2021
03:00 PM - 06:00 PM
Centre for Ethics, University of Toronto