Ethics of COVID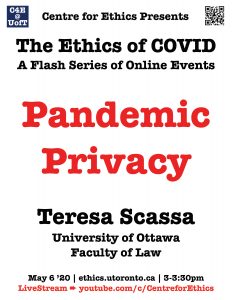 Join the Centre for Ethics for The Ethics of COVID, an interdisciplinary series of online events featuring short video takes on the ethical dimensions of the COVID crisis.
Pandemic Privacy
The COVID-19 pandemic raises a number of privacy issues ranging from tracking and surveillance to increased pooling and sharing of public and private sector data. These issues tend to pit privacy rights against a public interest sharpened by a health crisis and unprecedented economic disruption. Data-driven technological solutions are being developed and deployed with astonishing speed. Using contact-tracing apps as an illustration, this talk explores the particular features and preoccupations of pandemic privacy.
This is an online event. It will be live streamed on the Centre for Ethics YouTube Channel at 3pm, Wednesday, May 6. Channel subscribers will receive a notification at the start of the live stream.
➨ please register here
Teresa Scassa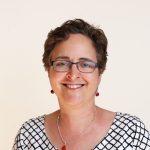 University of Ottawa
Faculty of Law

Wed, May 6, 2020
03:00 PM - 03:30 PM
Centre for Ethics, University of Toronto
200 Larkin