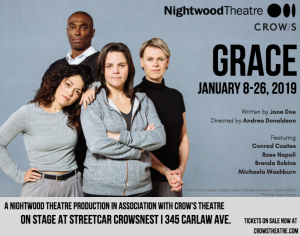 Grace by Jane Doe – January 8-26, 2019 at Streetcar Crowsnest. A Nightwood Theatre production in association with Crow's Theatre. Directed by Andrea Donaldson, starring Michaela Washburn, Rose Napoli, Brenda Robins and Conrad Coates.
In conjunction with its production of Grace, Nightwood Theatre is proud to present a symposium on Saturday, January 12th from 4pm-6pm, 2019 onstage at Streetcar Crowsnest. Free to attend. The symposium will consist of two panels: one on the challenges and failures of the legal system, with guest speakers Judge Donna Hakett, prosecutor Jill Witkin, Megan Savard and Deepa Mattoo, and moderated by Christine McGoey; and another on the psychology of memory.
Click here to RSVP for the free symposium.
co-sponsored by, among others:

Sat, Jan 12, 2019
04:00 PM - 06:00 PM
Streetcar Crowsnest
345 Carlaw Avenue