Ethics of Black Lives Matter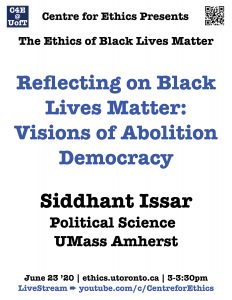 Join the Centre for Ethics for The Ethics of Black Lives Matter, an interdisciplinary series of online events featuring short video takes.
Reflecting on Black Lives Matter: Visions of Abolition Democracy
In the wake of the police murders of Breonna Taylor and George Floyd, longstanding activist demands to "defund the police" have finally gained traction. In this talk, I begin by situating contemporary demands for police abolition within the Movement for Black Lives's (M4BL) critique of racial capitalism. The world-system of racial capitalism, for M4BL, is a foundational motor of historical and ongoing anti-Black violence. Subsequently, I argue that M4BL's vision to contest racial capitalism—as found in their policy platform—revolves around an abolitionist democratic politics, including demands for the democratization of land and natural resources. I end by thinking about the political and normative implications of M4BL's critique of and positive program to overcome anti-Black oppression.
This is an online event. It will be live streamed on the Centre for Ethics YouTube Channel at 3pm, Tuesday, June 23. Channel subscribers will receive a notification at the start of the live stream. (For other events in the series, and to subscribe, visit YouTube.com/c/CentreforEthics.)
➡︎ please register here
Siddhant Issar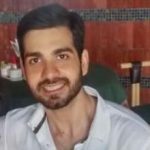 Political Science
UMass Amherst
Tue, Jun 23, 2020
03:00 PM - 03:30 PM
Centre for Ethics, University of Toronto
200 Larkin