Reading Series, Ethics & the Arts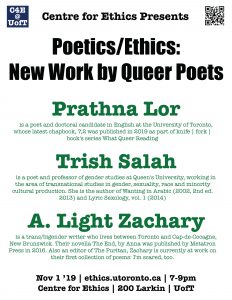 Poetics/Ethics: New Work by Queer Poets I
This is the first of three readings that will showcase contemporary queer poets working in Canada, based on the notion that ethics should be conceived as encompassing not just academic research but also literary writing. Each of these poets crafts new languages to describe and confront the interplay of lived experience and political critique. By bringing them together, we hope not only to foster a conversation between the authors of some of the most exciting poetry being written today, but also some of the most complex and subtle thinking about gender and sexuality and their intersections with race, indigeneity, migration, and colonialism. (Further editions will take place during the winter and spring, and will feature poets including Gwen Benaway, Sina Queyras, and others.)
☛ please register here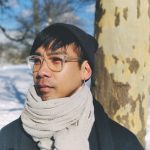 Prathna Lor is a living poet.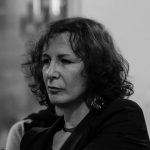 Trish Salah lives and writes in Toronto and is associate professor of Gender Studies at Queen's University, Kingston. Her books are Wanting in Arabic and Lyric Sexology, Vol. 1 and she co-edited TSQ: Transgender Studies Quarterly 1.4 on Trans Cultural Production. Her writing appears in recent issues of Angelaki, Anomaly, The Medium, Prism International and in the collections Women of Resistance and Meanwhile Elsewhere: Science Fiction and Fantasy from Transgender Writers.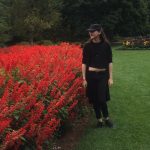 A. Light Zachary is a trans/bigender writer who lives between Toronto and Cap-de-Cocagne, New Brunswick. Their novella The End, by Anna was published by Metatron Press in 2016. Also an editor of The Puritan, Zachary is currently at work on their first collection of poems: I'm scared, too.
Fri, Nov 1, 2019
07:00 PM - 09:00 PM
Centre for Ethics, University of Toronto
200 Larkin