Ethics of COVID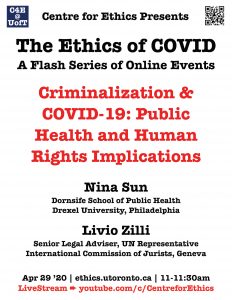 Join the Centre for Ethics for The Ethics of COVID, an interdisciplinary series of online events featuring short video takes on the ethical dimensions of the COVID crisis.
Criminalization & COVID-19: Public Health and Human Rights Implications
As the COVID-19 pandemic continues, countries are increasingly turning to criminal sanctions as a means to enforce social distancing and control the epidemic. Taking an interdisciplinary approach of law, policy-making and public health, our speakers discuss the health and human rights considerations of criminalization of COVID-19.
This is an online event. It will be live streamed on the Centre for Ethics YouTube Channel at 11am, Wednesday, April 29. Channel subscribers will receive a notification at the start of the live stream.
➡︎ please register here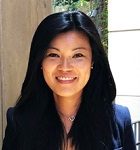 Nina Sun
Deputy Director – Global Health
Assistant Clinical Professor – Community Health and Prevention
Dornsife School of Public Health
Drexel University, Philadelphia
Livio Zilli
Senior Legal Adviser, UN Representative
International Commission of Jurists, Geneva
Wed, Apr 29, 2020
11:00 AM - 11:30 AM
Centre for Ethics, University of Toronto
200 Larkin