Reading Series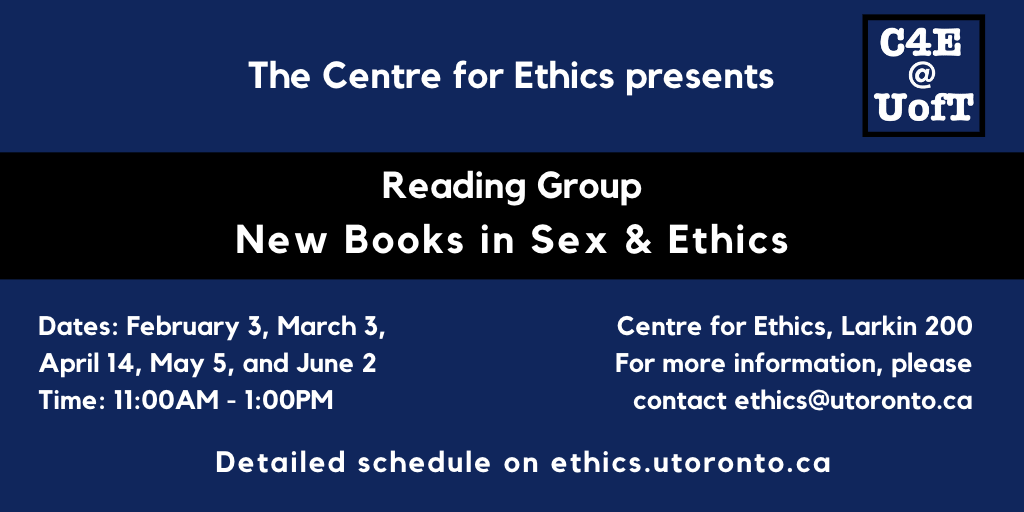 ► To stay informed about other upcoming events at the Centre for Ethics, opportunities, and more, please sign up for our newsletter.
New Books in Sex and Ethics Reading Group
Organized by Professor John Paul Ricco (Comparative Literature, Art History, Visual Studies)
Graduate Students, Faculty, Postdoctoral Fellows, and Advanced Undergraduates are invited to join this Reading Group, where we will discuss some of the top books recently published on the topic of sex and ethics.
► The reading group will be held in-person at the Centre for Ethics (Larkin building, room 200)
Reading group dates:
February 3, 2023: Katherine Angel, Tomorrow Sex Will be Good Again: Women and Desire in the Age of Consent (2021)
March 3, 2023: Amia Srinivasan, The Right to Sex: Feminism in the Twenty-First Century (2021)
April 14, 2023: Oliver Davis and Tim Dean, The Hatred of Sex (2021)
May 5, 2023: Jean-Luc Nancy, Sexistence (2021)
June 2, 2023: Avgi Saketopoulou, Sexuality Beyond Consent: Risk, Race, Traumatophilia (February 2023)
Participants are asked to acquire their own copies of the books. The Hatred of Sex and Sexistence are available online through the University of Toronto library catalogue. The other books will be put on hold at Robarts. If you need help finding a copy of any book, please contact Lauren Bialystok at lauren.bialystok@utoronto.ca.
No RSVP required, but if you plan to participate for the term, it would help to let us know in advance. Please contact ethics@utoronto.ca.
► For more information, please contact ethics@utoronto.ca
Fri, Jun 2, 2023
11:00 AM - 01:00 PM
Centre for Ethics, University of Toronto
200 Larkin