Ethics of COVID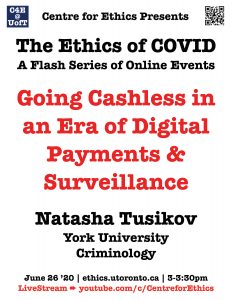 Join the Centre for Ethics for The Ethics of COVID, an interdisciplinary series of online events featuring short video takes on the ethical dimensions of the COVID crisis.
Going Cashless in an Era of Digital Payments & Surveillance
The COVID-19 pandemic is accelerating the shift toward a cashless society, with consumers and retailers turning to payment cards and digital payments in efforts to avoid the perceived contagion from cash. While this shift offers some benefits, including convenience, it also penalizes those who prefer or rely upon cash. Methods of digital payments, from PayPal and Apple Pay to Square, operate surveillance-intensive business models that collect, interpret, and commodify data in order to augment existing products and create new ones. Payment platforms also have a troubling history of denying services to those they label "high risk," including people working in the sex industry and distributing sexual or erotic content. With surveillance an intrinsic feature of digital-payment systems, what are the possible repercussions of a cashless society? What lessons can we draw from payment platforms' campaign against sex workers to address financial exclusion and discrimination in a post-pandemic society?
This is an online event. It will be live streamed on the Centre for Ethics YouTube Channel at 3pm, Friday, June 26. Channel subscribers will receive a notification at the start of the live stream. (For other events in the series, and to subscribe, visit YouTube.com/c/CentreforEthics.)
➡︎ please register here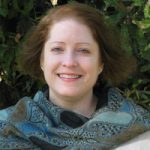 Natasha Tusikov
Criminology Program
Department of Social Science
York University
Fri, Jun 26, 2020
03:00 PM - 03:30 PM
Centre for Ethics, University of Toronto
200 Larkin