Ethics at Noon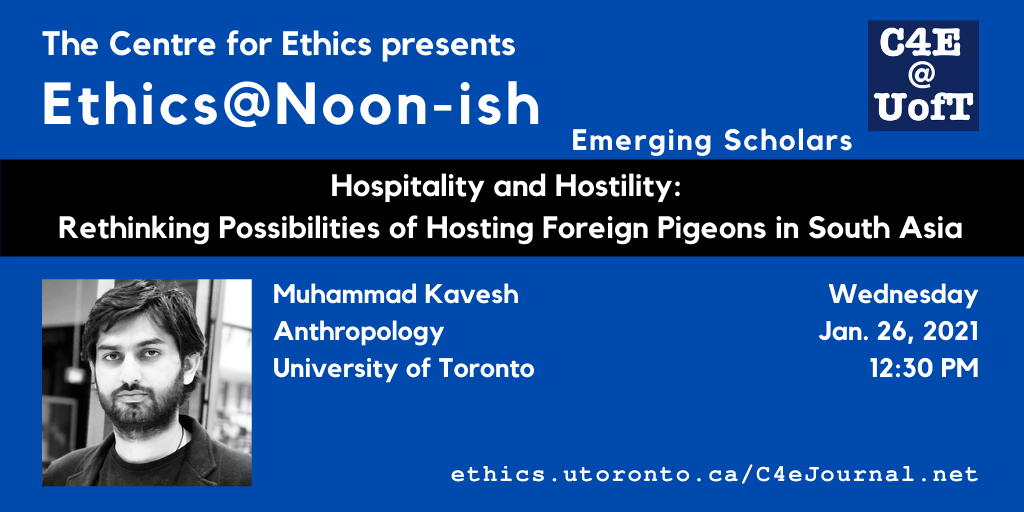 ► To stay informed about other upcoming events at the Centre for Ethics, opportunities, and more, please sign up for our newsletter.
Hospitality and Hostility: Rethinking Possibilities of Hosting Foreign Pigeons in South Asia
In this talk, I ask what it means for a pigeon "to come from abroad" in politically and economically transforming circumstances in South Asia and how mutually shared values of hospitality and hostility emerge and interplay when a pigeon arrives in a foreign land as an invited guest or an uninvited spy. I explore the rooted, albeit waning, Punjabi value of hospitality, usually summarized in a Punjabi phrase, jee aya nu (welcome, or yes to all who arrive), and consider its co-existence with hostility, or an attitude of inhospitability to the more-than-human visitor at home. I suggest that hospitality and hostility are unified as well as separate cultural values that have distinct cultural roots and generally operate through the structure of reciprocity. This develops the first part of my argument and leads me to suggest that the disappearance of reciprocity breaks the norm of hospitality and hostility, and diminishes pre-existing relationality. In the second part of my argument, I engage in conversation with the ethical writings of philosopher Jacques Derrida, a Punjabi poet Waris Shah, and philosopher Jonardon Ganeri, and suggest that the absence, instead of the presence, of reciprocity in hospitality and hostility initiates novel relatedness and provides a way to structure the ethic of unconditional hospitality.
► please register here
This is an online event, available on the Centre for Ethics YouTube Channel. Channel subscribers will receive a notification at the start. (For other events in the series, and to subscribe, visit YouTube.com/c/CentreforEthics.)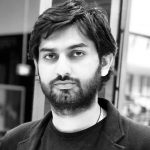 Muhammad Kavesh
Postdoctoral Fellow in Anthropology
University of Toronto
Wed, Jan 26, 2022
12:30 PM - 01:45 PM
Centre for Ethics, University of Toronto
200 Larkin