Race, Ethics + Power: Emerging Scholars
► To stay informed about other upcoming events at the Centre for Ethics, opportunities, and more, please sign up for our newsletter.
Germs of Rot: Colonialism, Culture, and Immigrant Mental Health Discourse
In Wretched of the Earth, Frantz Fanon writes, "Imperialism leaves behind germs of rot which we must clinically detect and remove from our land but from our minds as well." In exploring how contemporary mental health discourse continues to perpetuate colonial ideals, I will use a case study about the relationship Sikh Canadians have with alcohol wherein community members argue that Panjabi culture promotes the consumption of alcohol while Sikhi prohibits it. I will unravel this binary through an exploration of the racialization of culture, internalized colonialism, and power.
Looking more broadly towards popular discourse around mental health within larger South Asian diasporas, although there has been a growing urge to "normalize" conversations about mental health and create "culturally competent" resources for racialized communities, these resources continue to rely on and perpetuate colonial tropes that paint white communities as progressive and forward thinking and racialized communities as inherently and reprehensibly flawed and backwards. I will argue that much of South Asian mental health discourse functions from a deficit-based model, where there appears to be a clear monolithicizing, mythologizing, and infantilizing of immigrant parents which functions to recreate colonial hierarchies wherein the child of immigrants (creator of this discourse) has become the colonizer, the holder of the "correct" knowledge. In conclusion, I will propose key considerations for what decolonization can look like in practice and how we can detect and remove this rot from our minds.
► please register here
This is an online event, available on the Centre for Ethics YouTube Channel. Channel subscribers will receive a notification at the start. (For other events in the series, and to subscribe, visit YouTube.com/c/CentreforEthics.)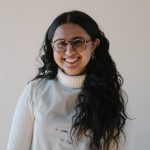 Manvinder Kaur Gill is currently a SSHRC-funded Master of Social Work student at the University of Toronto where she holds a research assistantship on a project titled "Border(ing) Practices: Systemic Racism, Immigration, and Child Welfare" and is completing a clinical and research internship at Women's Health in Women's Hands, a community health centre providing primary healthcare to Black Women and Women of Colour from Caribbean, African, Latin American, and South Asian communities in Toronto.
Thu, Nov 18, 2021
04:00 PM - 05:30 PM
Centre for Ethics, University of Toronto
200 Larkin