Race, Ethics + Power: Emerging Scholars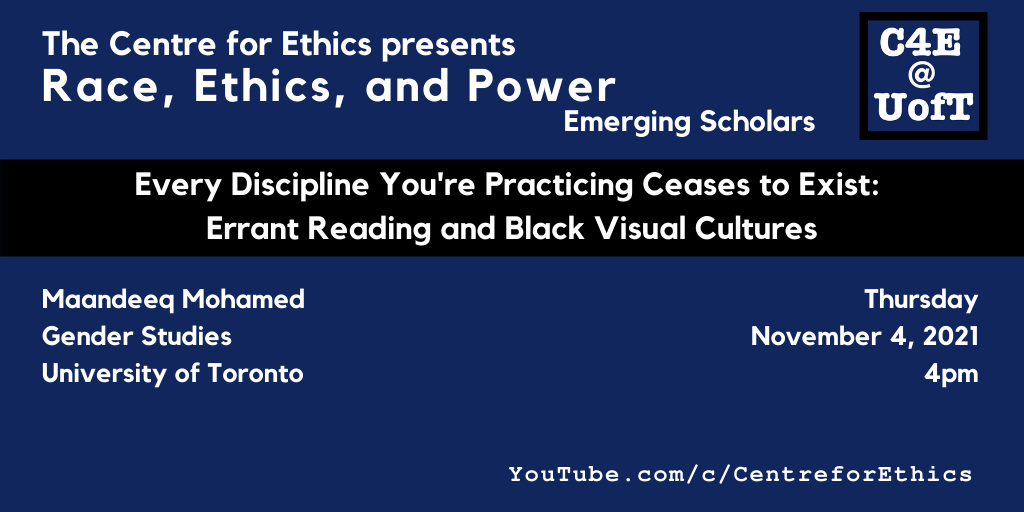 ► To stay informed about other upcoming events at the Centre for Ethics, opportunities, and more, please sign up for our newsletter.
Every Discipline You're Practicing Ceases to Exist: Errant Reading and Black Visual Cultures
There is a moment in Charmaine Nelson's "The Hottentot Venus in Canada," where she engages the Art Gallery of Toronto's (the precursor to today's AGO) 1927 censoring of Max Weber's paintings for referencing Saartjie Baartman. Almost a century after the AGO's censoring of Weber, ethnography and portraiture also bump up against each other on the AGO's walls, in the work of Sandra Brewster. In Brewster's Blur, we encounter portraits of Black people who are directed to move while their photo is taken. Brewster employs the technique of long exposures, resulting in portraits of swirling blurs: the flooding light from the long exposure cannot fully capture Black movement with the camera. Against the enclosure of daguerreotype, and the medical diagram, Brewster gives us opaque images of Blackness in motion. Through Brewster and Nelson as a starting point, this talk engages how Black visual cultures call for errant reading practices where, after Sylvia Wynter, "every discipline you're practicing ceases to exist."
► please register here
This is an online event, available on the Centre for Ethics YouTube Channel, on Thursday, November 4. Channel subscribers will receive a notification at the start. (For other events in the series, and to subscribe, visit YouTube.com/c/CentreforEthics.)
Maandeeq Mohamed is a writer engaging Black Studies and related cultural production. Her writing is featured in Real Life, C Magazine, and Canadian Art. Maandeeq is currently a PhD student in English and Gender Studies at the University of Toronto, where she is a SSHRC Joseph-Armand Bombardier Doctoral Scholar.
Thu, Nov 4, 2021
04:00 PM - 05:30 PM
Centre for Ethics, University of Toronto
200 Larkin