C4E Flash Event, Race, Ethics + Power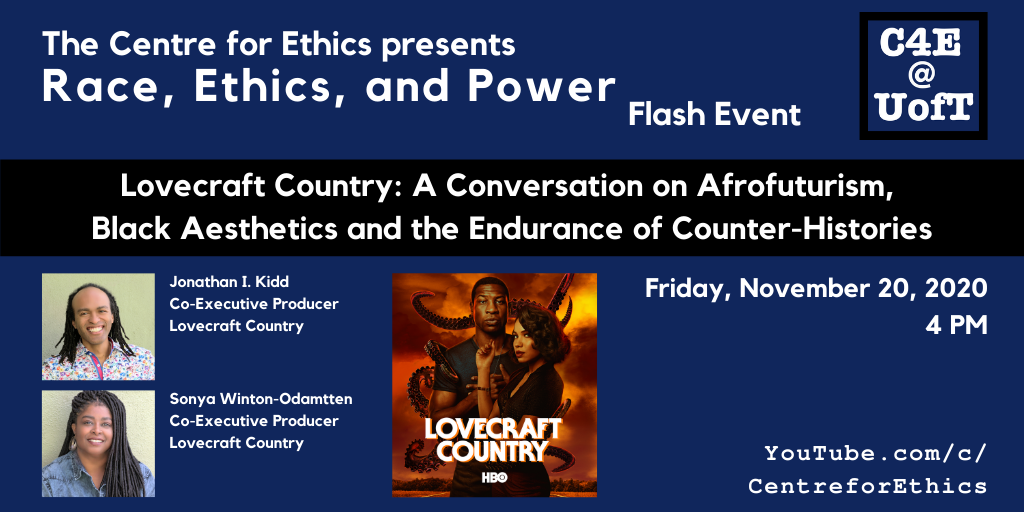 Lovecraft Country: A Conversation on Afrofuturism, Black Aesthetics and the Endurance of Counter-Histories
Afrofuturism is prominent force in popular culture and within Black critical thought. As an aesthetic we see examples in the visual expressions of musical artists such as Erykah Badu, and Janelle Monae, and a long history in literature by award winning novelists Octavia Butler and Nalo Hopkinson to name a few. Most recently we see Afrofuturist visions in the televisual landscape as seen with the recent success of HBO's Lovecraft Country. But Afrofuturism and Black speculative thought has a long history within Black letters and expressive culture. What is Afrofuturism's relationship to history, and how does it offer radical revisions of what we term "the past"?
We are excited to be joined by co-executive producers of Lovecraft Country, Jonathan Kidd and Sonya Winton-Odamtten to discuss the show in relation to the legacy of Afrofuturist thought and the politics of creating counter-histories.
► please register here
This is an online event. It will be live streamed on the Centre for Ethics YouTube Channel on Friday, November 20. Channel subscribers will receive a notification at the start of the live stream. (For other events in the series, and to subscribe, visit YouTube.com/c/CentreforEthics.)
Playwrights and documentarians, Jonathan Kidd and Sonya Winton-Odamtten are the physical manifestation of a stellar collision. While Jonathan grew up in the farmlands of Mansfield, Ohio, Sonya was reared by her creative-hippie parents in the metropole of Los Angeles. No one could have predicted that their paths would cross while pursuing their PhD's at Yale University…changing their lives forever… Jonathan earned his Bachelor's degree with honors from The University of Michigan in African Studies, African American Studies, and English. He received his Master's of Art, Master's of Philosophy, and Doctoral degree from Yale University in African American Studies and English. Sonya earned her Bachelor's degree with honors from Spelman College, where she majored in Political Science. She received her Master's in Public Administration from Columbia University's School of International and Public Affairs, a Master's of Art, and Master's of Philosophy in African American Studies and Political Science from Yale University. Sonya received her Doctorate in African American Studies and Political Science from Yale University. In 2001, while at Yale, Jonathan and Sonya founded a non-profit theater company, Adam, Eve, & Steve Productions (AES) and directed and produced a number of successful theater productions that include: Jonathan's There Must Be A God Somewhere, Jan Henson Dow and Robert Schroeder's Shaka, and Sonya's Matri-focal Concentric Zones of Violence Revisited: Part One. In 2003-04, they took two years off from their studies to complete a documentary on youth mobilization during the Presidential election covering such groups as: ROCK THE VOTE, THE NATIONAL HIP HOP POLITICAL CONVENTION, STONEWALL DEMOCRATS, COLLEGE REPUBLICANS, HEADCOUNT, NEW VOTERS PROJECT, LEAGUE OF PISSED OFF VOTERS, CITIZEN CHANGE, and PUNKVOTER. In 2006, they were one of the featured theatre non-profits selected to participate in Suzan-Lori Parks' 365 DAYS/365 PLAYS national festival. Parks remarked on the "unforgettable" productions staged by Jonathan and Sonya, at sites of contestation around greater Los Angeles (for example, the intersection of Florence and Normandie avenues, where Reginald Denny was beaten during the Rodney King rebellion). In 2007, Sonya and Jonathan taught theatre to teenagers in South Los Angeles through the LAUSD after school program Beyond 2 The Bell which utilized intensive readings of the works of Shakespeare, Lorraine Hansberry, and August Wilson to help students create their own one act plays addressing issues such as environmental justice, class inequality, and bullying. After stints as professors, playwrights, and documentarians, Sonya and Jonathan turned their eye toward a television career and were chosen for the Warner Brothers Television Writers Workshop in 2009. In addition to staffing on a number of shows, most notably ABC's THE WHOLE TRUTH; FOX's TOUCH; and AMAZON's OASIS, Kidd/Winton- Odamtten found success in selling several of their spec pilots: THE 4TH REICH (Showtime with Robert De Niro, Jane Rosenthal, and CBS Studios attached as producing partners); Warner Horizon, the 1970s period drama RODEO DRIVE; and Lifetime, the dynastic family drama, SOUTHERN GOTHIC which Catherine Hardwick was attached to direct and Alfre Woodard and Melissa Leo set to star in. At the close of 2018, Kidd/Winton-Odamtten signed an overall with HBO to develop new projects while continuing their work on LOVECRAFT as CO-EP's. Finally, through their philanthropic work Kidd/Winton-Odamtten recently launched the Feed Black Covid-19 Health Workers Challenge. After partnering with Frontline Foods, the duo recruited over 40 other Black Hollywood writers in order to support health care workers in underserved Black communities around the country. Thus far, their outreach has fed hospital, nursing home, and health clinic staffs in Downtown Los Angeles, St. Louis, New York, Dallas, Houston, Durham, Chicago, Pittsburgh, Providence, Inglewood, Boston, Memphis, and Minneapolis-St. Paul.
Jonathan I. Kidd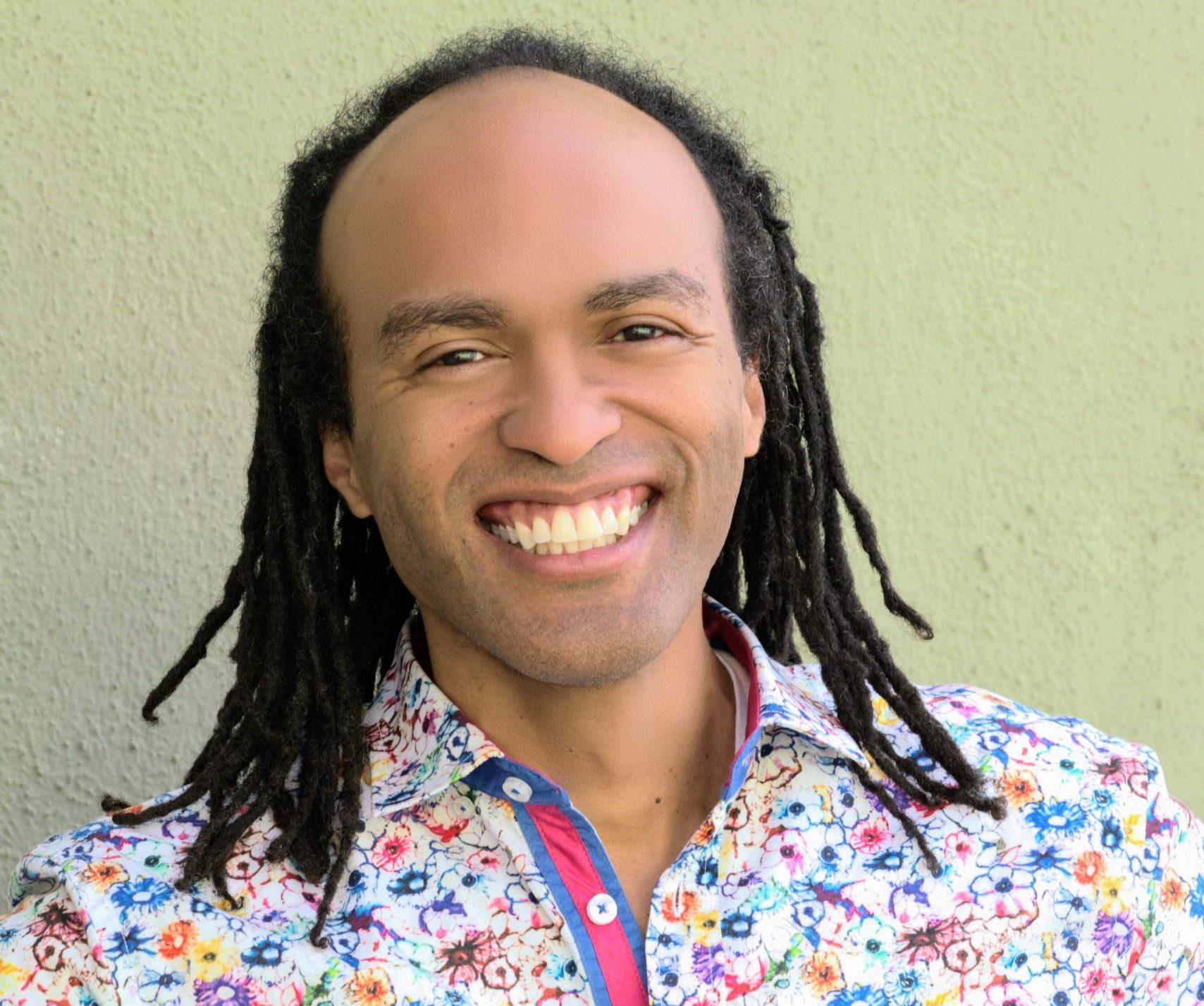 Co-Executive Producer
Lovecraft Country
Sonya Winton-Odamtten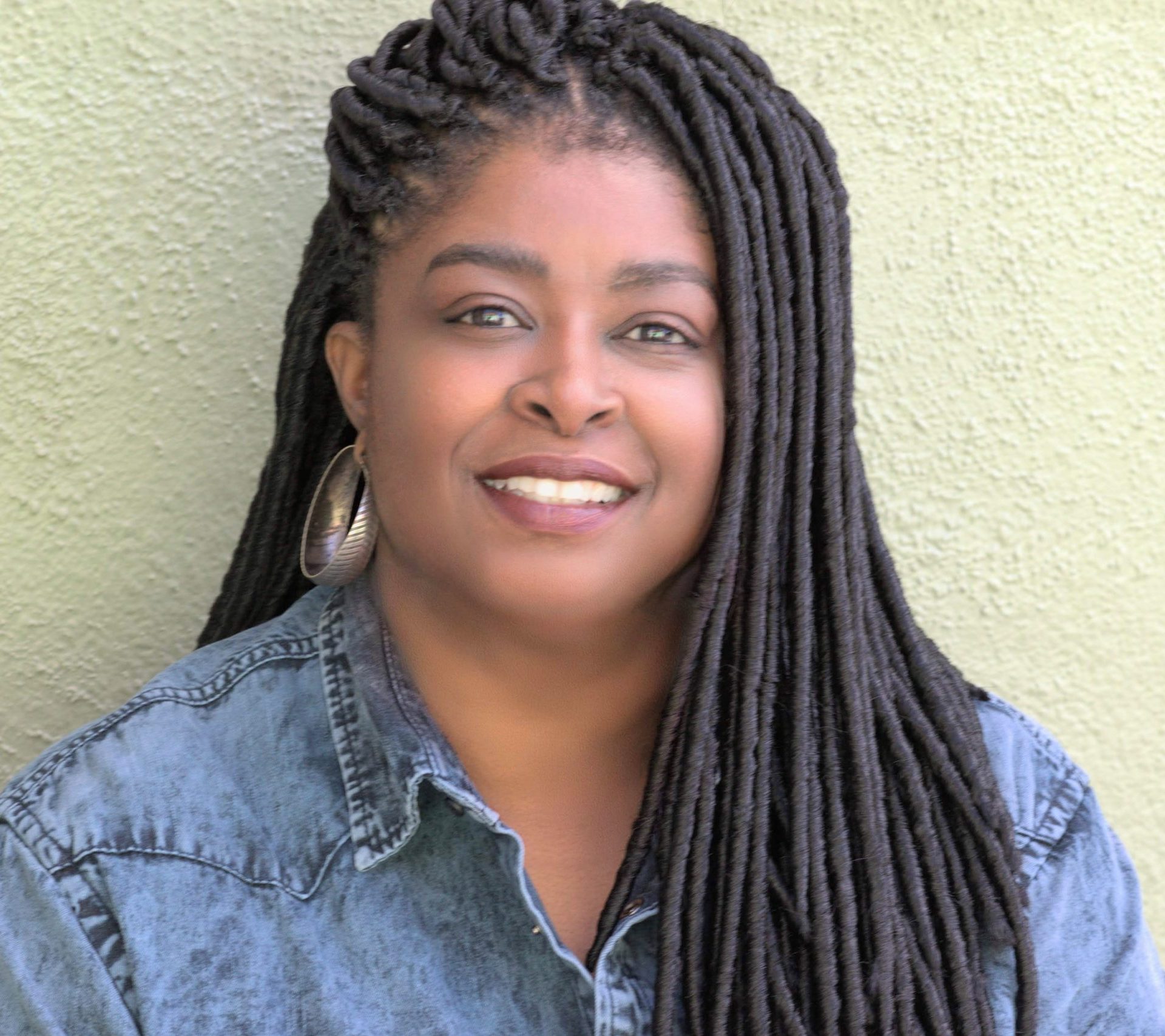 Co-Executive Producer
Lovecraft Country
Fri, Nov 20, 2020
04:00 PM - 05:30 PM
Centre for Ethics, University of Toronto
200 Larkin