Race, Ethics + Power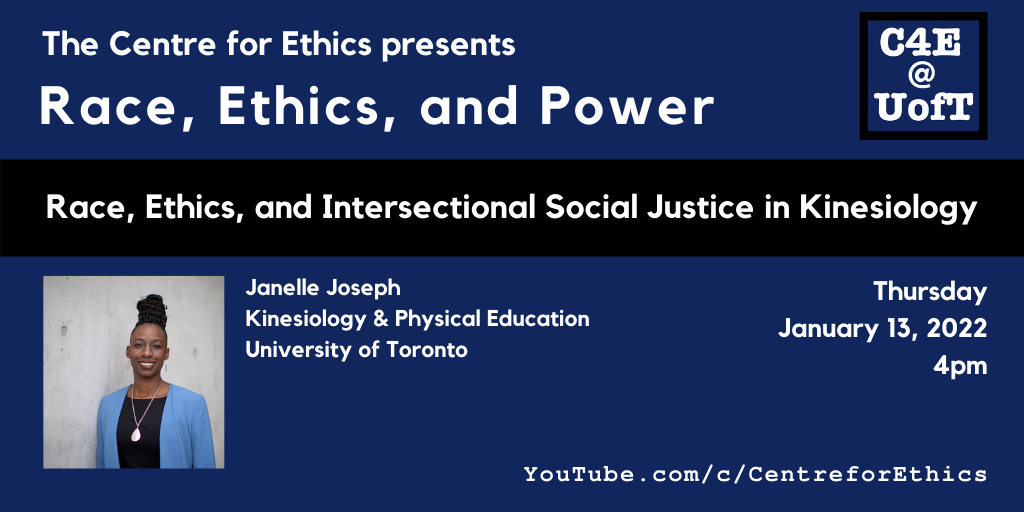 ► To stay informed about other upcoming events at the Centre for Ethics, opportunities, and more, please sign up for our newsletter.
Race, Ethics, and Intersectional Social Justice in Kinesiology
Kinesiology is a discipline that relies on colonial, scientific understandings of health and the moving body. In addition, ethics courses in Kinesiology predominantly draw from Eurocentric philosophies and legal paradigms. In this talk, however, I draw from a new model of ethics that adds a greater emphasis on decolonial praxis and intersectional social justice. This process of decolonizing Kinesiology ethics requires accounting for colonial and racist legacies in curricula and acknowledging the power relations sustained by White, patriarchal, ableist, capitalist systems. This presentation will detail the Decolonizing Kinesiology Ethics Model and highlight how teaching and learning in Kinesiology can adopt an ethical, anti-racist stance.
► please register here
This is an online event, available on the Centre for Ethics YouTube Channel. Channel subscribers will receive a notification at the start. (For other events in the series, and to subscribe, visit YouTube.com/c/CentreforEthics.)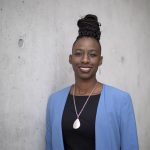 Janelle Joseph
Kinesiology and Physical Education
University of Toronto
Dr. Janelle Joseph is an Assistant Professor in the Faculty of Kinesiology and Physical Education with 22 years of experience in university teaching and award winning research including three books. Her most recent book is titled Sport in the Black Atlantic, Cricket, Canada and the Caribbean Diaspora. She is currently working on a multifaceted theoretical, empirical and auto-ethnographic project on experiences within Black Physical cultures such as kizomba, vogue, capoeira and soca and experiences of Black women and girls in basketball, running, surfing, and gymnastics. Her qualitative research focuses decoloniality and critical race studies. Dr Joseph is the former Director of Academic Success at the University of Toronto and the former Assistant Director of the Transitional Year Programme. Her community work spans extracurricular educational programs for Black children and anti-racism pedagogy for organizations such as Jays Care Foundation, Hockey Diversity Alliance, Coaching Association of Canada, and Ontario University Athletics.
Thu, Jan 13, 2022
04:00 PM - 05:30 PM
Centre for Ethics, University of Toronto
200 Larkin