Ethics of Black Lives Matter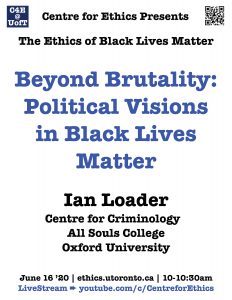 Join the Centre for Ethics for The Ethics of Black Lives Matter, an interdisciplinary series of online events featuring short video takes.
Beyond Brutality: Political Visions in Black Lives Matter
Black Lives Matter is a vibrant movement against racist brutality – in the US and far beyond. Its orientation is to expose, publicize and critique. But Black Lives Matter is also an idea. It is a movement that draws on ideas, that is animated by ideas, that is generative of ideas. So what ideas can be located in, and distilled from, the angry protests sparked by the killing of George Floyd? What different futures, what alternative political visions, animate Black Lives Matter?
This is an online event. It will be live streamed on the Centre for Ethics YouTube Channel at 10am EDT (5pm UK), Tuesday, June 16. Channel subscribers will receive a notification at the start of the live stream. (For other events in the series, and to subscribe, visit YouTube.com/c/CentreforEthics.)
➡︎ please register here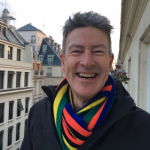 Ian Loader 
Centre for Criminology
All Souls College
University of Oxford
Tue, Jun 16, 2020
10:00 AM - 10:30 AM
Centre for Ethics, University of Toronto
200 Larkin