Ethics of Black Lives Matter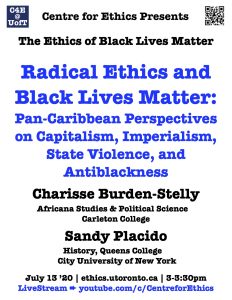 Join the Centre for Ethics for The Ethics of Black Lives Matter, an interdisciplinary series of online events featuring short video takes.
Radical Ethics and Black Lives Matter: Pan-Caribbean Perspectives on Capitalism, Imperialism, State Violence, and Antiblackness
In this conversation Drs. Charisse Burden-Stelly and Sandy Plácido offer an internationalist and pan-Caribbean perspective on the radical ethics of Black Lives Matter though an analysis of capitalism, imperialism, state violence, and antiblackness. From the police murders of George Floyd, Breonna Taylor, and Rashard Brooks in the United States to the intensification of far-right anti-Haitian violence in the Dominican Republic to the contested elections in Guyana, profound questions are being raised about the relationship of Blackness to both domination and liberation.
The antagonism between Black life and "law and order," of which the brutality and
dehumanization of policing is only one manifestation, provides insight into repression as a means of contending with constitutive lack emanating from histories of (neo-)colonialism and imperialism, capitalist exploitation and neoliberal austerity, and their rootedness in processes of racialization and regimes of antiblackness. Plácido and Burden-Stelly consider how this current iteration of uprisings and demands on the state require a disaggregation of "mass mobilization," which is coming from both the left and the right; an interrogation of the peculiar appeal of fascist-like nationalism to populations historically subjected to imperial and colonial domination; and a consideration of the benefits and limitations of "popular front"—that is, ideologically heterogenous—demands for equality and justice. Additionally, the Professors take up the radical ethics of Black lives matter as a heuristic to interrogate state power as a function of ruling class interests, on the one hand, and the potential for people's power to enact meaningful change, on the other hand.
This is an online event. It will be live streamed on the Centre for Ethics YouTube Channel at 3pm, on Monday, July 13. Channel subscribers will receive a notification at the start of the live stream. (For other events in the series, and to subscribe, visit YouTube.com/c/CentreforEthics.) 
➡︎ please register here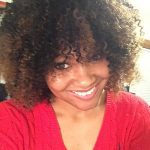 Charisse Burden-Stelly
Africana Studies & Political Science
Carleton College
Sandy Placido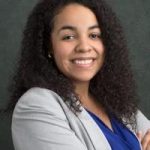 History
Queens College, City University of New York

Mon, Jul 13, 2020
03:00 PM - 03:30 PM
Centre for Ethics, University of Toronto
200 Larkin