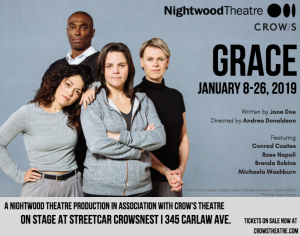 Grace by Jane Doe – January 8-26, 2019 at Streetcar Crowsnest. A Nightwood Theatre production in association with Crow's Theatre. Directed by Andrea Donaldson, starring Michaela Washburn, Rose Napoli, Brenda Robins and Conrad Coates.
Exquisitely told in a stunning blend of documentary theatre, striking visual projections and choreography, Grace is a searing piece that ignites a pertinent discussion on the failures and limitations of the legal system. "There was no justice, there was just a legal outcome." In the wake of a young woman's disclosure of childhood sexual assault, a family presses charges. A true story about survival, hope, and the pursuit of justice at a time when provability still usurps truth in our courtrooms.
☛ tickets $25-$40 at crowstheatre.com.
co-sponsored by, among others:

Tue, Jan 8, 2019
04:00 PM - 06:00 PM
Streetcar Crowsnest
345 Carlaw Avenue