Conferences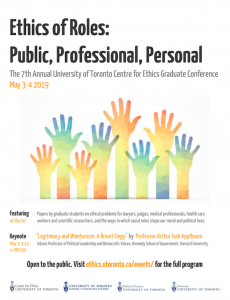 The 7th Annual Graduate Student Conference
Centre for Ethics, University of Toronto
May 3-4, 2019
The Ethics of Roles: Public, Professional, Personal explores the place of roles in our ethical lives and the duties of public and professional role occupants. The conference features presentations by graduate students from Canada and abroad, with comments by the Centre for Ethics Graduate Associates. Topics range from ethical problems for specific roles, including lawyers, judges, medical professionals, care workers, and scientific researchers, to more general investigations of how social roles shape our moral and political lives. View the full conference program and the agenda package .
The conference also features a keynote address by Professor Arthur Applbaum of Harvard University. Applbaum is the author of Ethics for Adversaries: The Morality of Roles in Public and Professional Life (Princeton, 1999). His work has appeared in journals such as Philosophy & Public Affairs, Journal of the American Medical Association, Harvard Law Review, Ethics, and Legal Theory.
Note on locations: the graduate student papers will be presented at the Centre for Ethics, while the keynote address is at the Jackman Humanities Building. All locations are accessible and have accessible and gender-neutral washrooms.
If you have any questions, contact Hamish Russell at graduateassociates@gmail.com
Keynote Speaker:
Arthur Applbaum
Adams Professor of Political Leadership and Democratic Values
Kennedy School of Government, Harvard University                                   "Legitimacy and Wantonism: A Brexit Elegy"                                                            Fri, 3 May 2019
3:15 PM – 5:00 PM EDT
Jackman Humanities Building, Rm 100
170 St. George Street
☛ register for keynote here
Fri, May 3, 2019
12:00 AM - 11:59 PM
Centre for Ethics, University of Toronto
Rm 200, Larkin Building