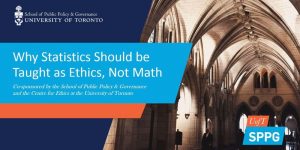 From simple tallies to complex quantitative analyses, counting necessarily requires value choices. Historically, measurement has always been intimately connected to notions of distributive justice and procedural fairness. This talk explores some of these connections and what it means to count with integrity.
Deborah Stone is a Distinguished Visiting Professor in the Heller School for Social Policy and Management at Brandeis University, and an Honorary Professor of Political Science at Aarhus University in Denmark. A specialist in health and social policy, she is the author of numerous articles and four books, including the renowned Policy Paradox: The Art of Political Decision Making, which won the American Political Science Association's Wildavsky Award for an Enduring Contribution to Policy Studies, and The Samaritan's Dilemma, a call for harnessing altruism, rather than self-interest, as the moral engine of political life. Her lifetime of distinguished contribution to political science was recently recognized with the APSA's prestigious James Madison Award in 2017.
Stone is one of the co-founders and sits on the editorial board of the Journal of Health Politics, Policy and Law. In addition to academic publications, she has written for The American Prospect, Nation, New Republic, Boston Review, salon.com, and some natural history magazines. She has served as a consultant to the Social Security Administration, the Institute of Medicine, the Office of Technology Assessment, and the Human Genome Project, and more recently, to The Asia Foundation Nepal, where she helped establish a public policy institute called Niti Foundation.
Stone holds a B.A. in Russian Studies from the University of Michigan and a Ph.D. in Political Science from MIT.
This seminar is co-sponsored by the School of Public Policy & Governance and the Centre for Ethics at the University of Toronto.
Lunch will be served.
Admission is free by registration and open to the public. Register here.
Thu, Mar 22, 2018
12:30 PM - 02:00 PM
Room 200, Larkin Building
15 Devonshire Place