Conferences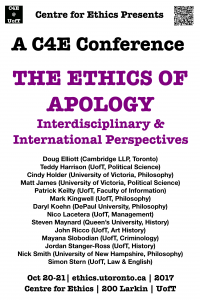 Today, apologies seem to be everywhere. Individuals apologize, offenders, doctors, lawyers, as do corporations, organizations, universities, police departments, cities, countries, and governments. We crave apologies, we seek and demand them, insisting that we "deserve" them. And sometimes, but not always, we "get" an apology, or at least we get a promise to get one later.
Apologies may be ubiquitous, and yet they remain little understood. This workshop will consider questions such as: Why do we seek apologies? And why do we give them? How do they work (if they work)? What do apologies do? What do they mean, in different contexts, at different times, to different people? What makes a good apology, an effective one, a sincere or genuine or heartfelt one? What distinguishes apologies from apparent social, legal, rhetorical, or communicative alternatives like expressions of regret or sympathy and acknowledgments of fault, of responsibility, or of guilt? In general, is there an ethics of apology, a set of substantive and procedural norms that govern their performance, interpretation, and implementation in various cultural and historical settings?
On the occasion of Canada's 150th birthday, the proposed workshop sets out to explore the modern—or perhaps not-so-modern—phenomenon of the apology and its place in the ethos of contemporary Canadian society and politics. We will focus on certain apologetic moments in Canadian political life, placing them in a broad interdisciplinary and comparative context; these include, for instance, the various apologies offered for state wrongs committed against indigenous people over the past 150 years of Canadian history and, most recently, the demand that the federal government issue an official apology for "state sponsored discrimination against Canada's LGBTQ2SI communities" (EGALE 2016), in contrast to remedies for unjust government actions offered elsewhere (expungement or pardon of convictions in the UK and Australia, compensation in Germany). It is one thing to regard an official apology as an acceptable symbolic alternative to an elusive concrete and enforceable legal remedy. Under what circumstances might an apology be regarded not as merely acceptable, but as preferable?
To shed light on the ubiquitous yet still mysterious, and mysteriously powerful, phenomenon of the apology through open debate across modes and subjects of inquiry, this workshop brings together an interdisciplinary and international group of scholars, students, and activists at the Centre for Ethics, the University of Toronto's interdisciplinary centre aimed at advancing research and teaching in the field of ethics, broadly defined. The results of this exercise in communal critical analysis will be widely shared beyond the walls of the university through dissemination on the Centre's online open-access journal and YouTube channel, with the aim of stimulating and facilitating public debate about the role and continued salience of apologies in contemporary social, political, and ethical discourse, in Canada and beyond.
Participants:
Doug Elliott (Cambridge LLP, Toronto), "So Sorry: The Legal Myths and Social Realities of the Official Apology"
Teddy Harrison (University of Toronto, Political Science), "Apologies and Violence in Criminal Justice"
Cindy Holder (University of Victoria, Philosophy), "Whose Wrong Is It Anyway? Reflecting on the Public-ness of Public Apologies"
Matt James & Jordan Stanger-Ross (University of Victoria, Political Science & History), "Impermanent Apologies: On the Dynamics of Timing and Public Knowledge in Political Apology"
Patrick Keilty (University of Toronto, Faculty of Information), "Sorry/Not Sorry: Sexual Regulation and Apology at the Toronto Police Service"
Mark Kingwell (University of Toronto, Philosophy), "Apologies: A Stylistic Investigation"
Daryl Koehn (DePaul University, Philosophy), "The Business Ethics of CEO Apologies"
Nico Lacetera (University of Toronto, Management), "Corporate Apologies and the Ethics of Trust"
Steven Maynard (Queen's University, History), "Sorry Seems to be the Easiest Word: The Gay Pardon in Canada and the 'Rehabilitation' of Queer History"
John Ricco (University of Toronto, Art History), "On Queer Forgiveness"
Mayana Slobodian (University of Toronto, Centre for Criminology & Sociolegal Studies), "Finding Canada's Official Apology at the Truth & Reconciliation Commission"
Nick Smith (University of New Hampshire, Philosophy), "Apologies as Remedies/Apologies as Weapons" (Keynote: Please register separately here.)
Simon Stern (University of Toronto, Law & English), "Atonement, Closure, and Narrative"
Schedule (subject to change):
☛ Friday 20 October, 2017
8:45 a.m. Welcome
9:00 a.m. – 11:00 a.m. Doug Elliott, Patrick Keilty, John Ricco, Steven Maynard
11:15 a.m. – 12:30 p.m. Matt James & Jordan Stanger-Ross, Mayana Slobodian
1:30 p.m. – 3:00 p.m. Cindy Holder, Mark Kingwell, Simon Stern
3:30 p.m. – 5:00 p.m. Nick Smith (Keynote Lecture) (Rm 100, Jackman Humanities Building; separate registration)
☛ Saturday 21 October, 2017
9:15 a.m. – 11:15 a.m. Nick Smith, Teddy Harrison, Daryl Koehn, Nico Lacetera
Fri, Oct 20, 2017
09:00 AM - 05:00 PM
Centre for Ethics, University of Toronto
Rm 200, Larkin Building