Ethics & the Arts
☛ eForum
Join an interdisciplinary roundtable discussion of literary ethics to explore questions about the relationship between ethics and literature, such as: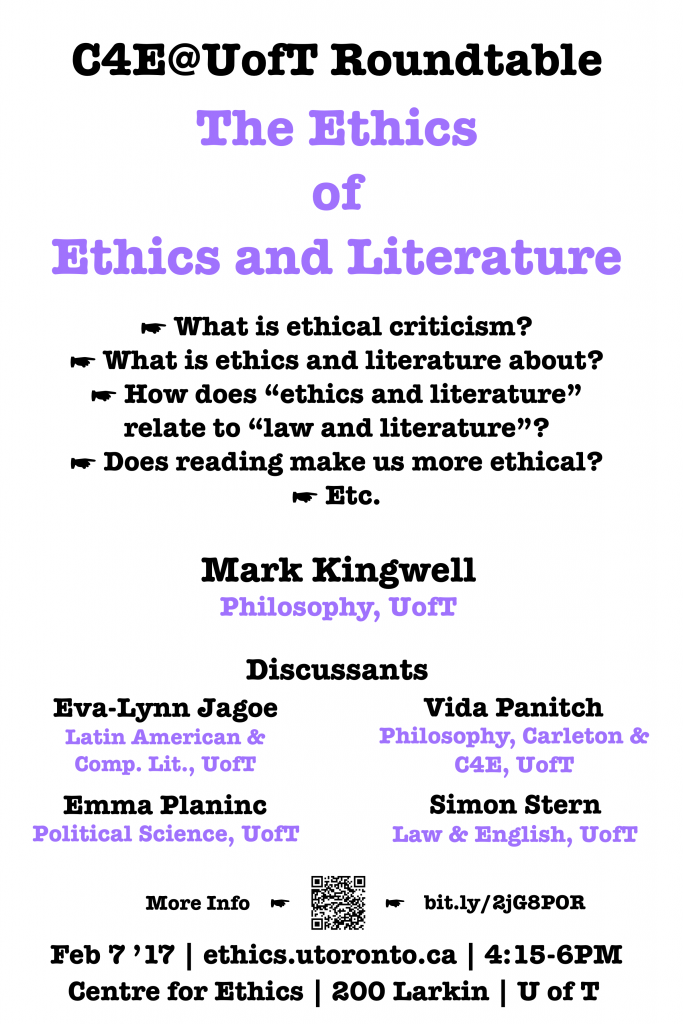 What is ethical criticism? What's wrong with it? What's right? Can criticism ever not be ethical? Should it (try to) be?
What's "ethics and literature" about anyway? Does it have a point? Does it need to have one?
Is ethics and literature, ethics? Or literature? Or … both? Neither?
How does "ethics and literature" relate to "law and literature"? Law and literature is often said to come in two flavours: "law in literature" and "law as literature"? What's that distinction about and is there a similar distinction in ethics and literature?
Does reading make us more ethical? Is reading itself an ethical act? Writing? Translating?
Suggested background reading: (1) Mark Kingwell, The Ethics of Ethics and Literature; (2) Richard Posner, Against Ethical Criticism
Presenter:
Discussants:
When: February 7, 2017, 4:15-6PM
Where: Centre for Ethics, 200 Larkin (@ Trinity College), 15 Devonshire Place, University of Toronto
Tue, Feb 7, 2017
04:15 PM - 06:00 PM
Room 200, Larkin Building
15 Devonshire Place