Public Issues Forum
Identity and the State: Immigration, Race and Belonging after the US Election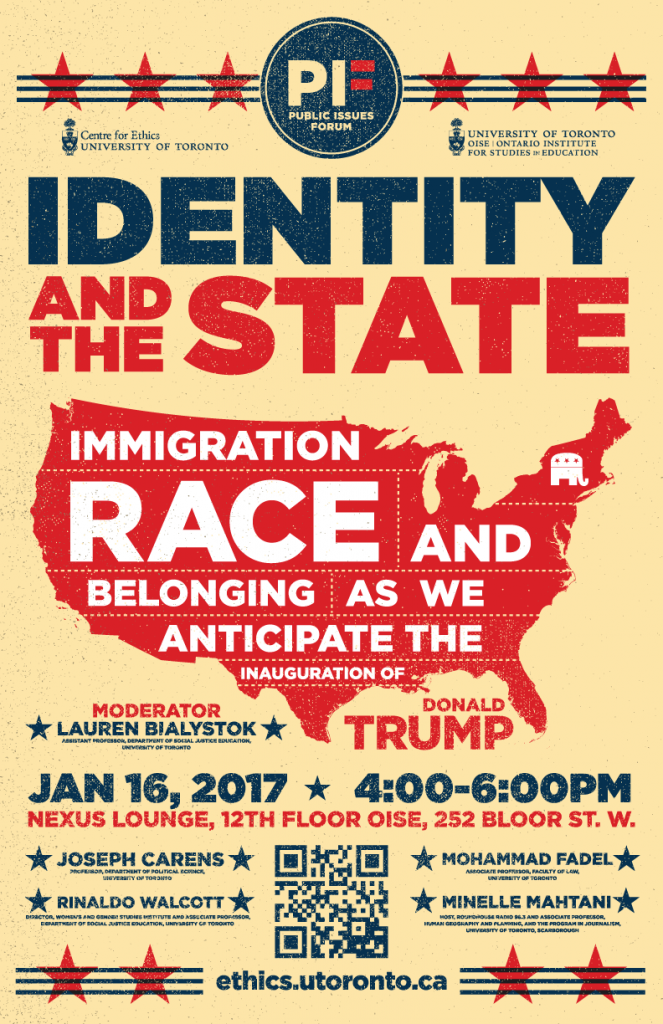 Monday, January 16
4:00-6:00 PM
Nexus Lounge, 12th Floor
OISE, 252 Bloor St. W.
The recent US election has destabilized many expectations of the democratic liberal state. Most concerning for some is the insistence of the President-elect on legitimizing race-based and anti-immigrant policies as a defining feature of the new administration. This forum, jointly sponsored by the Centre for Ethics and the Department of Social Justice Education, invites an interdisciplinary panel to consider issues of immigration, race and belonging as we anticipate the inauguration of Donald Trump.
Panelists
Moderator
Lauren Bialystok, Assistant Professor, Department of Social Justice Education, University of Toronto
Hosted in collaboration with Department of Social Justice Education, Ontario Institute for Studies in Education (OISE), University of Toronto
Mon, Jan 16, 2017
04:00 PM - 06:00 PM
Ontario Institute for Studies in Education
252 Bloor Street West