About the Graduate Associates
The Centre for Ethics (C4E) at the University of Toronto is an interdisciplinary centre aimed at advancing research and teaching in the field of ethics, broadly defined. The C4E seeks to bring together the theoretical and practical knowledge of diverse scholars, students, public servants and social leaders in order to increase understanding of the ethical dimensions of individual, social, and political life.
Each year, the C4E is home to a group of Graduate Associates: students from a variety of programs and disciplines who meet regularly (typically once per month) to explore ethical questions and to learn from each other's perspectives. Over the course of these meetings, each Graduate Associate is encouraged to either suggest a reading for group discussion or present their own writings. Presenters will benefit from the comments of a discussant (a fellow Associate, preferably drawn from outside the presenter's own discipline), as well as a general discussion in a friendly environment of peers. Students in early stages of their work are especially encouraged to present working papers in this forum.
Graduate Associates are also expected to participate regularly in other C4E activities, which include seminars, work-in-progress lunches, conferences, lectures, forums, and film series. In return, Graduate Associates are provided with unique opportunities to interact with visiting scholars and other members of the C4E community, including its faculty associates. If Graduate Associates have ideas for activities or events that are related to the Centre's mission, the Centre's Director, Professor Markus Dubber, can help bring these ideas to fruition.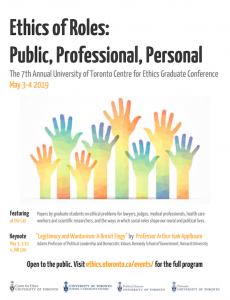 About the 2018-19 Program
This year's theme is The Ethics of Roles: Public, Professional, Personal. We will explore the place of roles within our ethical lives, such as the ways in which roles can alter our moral duties, improve or corrupt our moral character, and shape our understandings of others. Our discussions may also consider the ethical dimensions of specific roles, including but not limited to: public servants, lawyers, medical professionals, business professionals, academics, artists, religious or spiritual advisors, citizens, and parents. The hope is for this breadth of focus to reveal common questions and suggest new approaches.
Our meetings will culminate in a year-end conference. Here's information on our two previous conferences: Globalization and Its Critics in the 21st Century (2018); Imagining 150: The Ethics of Canada's Sesquicentennial (2017).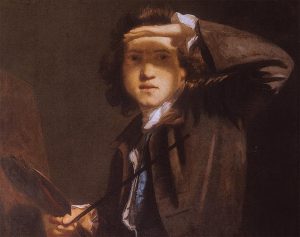 We are looking for graduate students from all disciplines to join our discussion. The theme has been chosen with the aim of bringing together scholars from a wide range of academic disciplines and professional programs. We welcome applications from graduate students interested in exploring the theme through literature, film, memoir, or personal experience.
The Coordinator for this year's program is Hamish Russell, a PhD Candidate in Philosophy. He can be contacted at: graduateassociates@gmail.com.