Ethics of COVID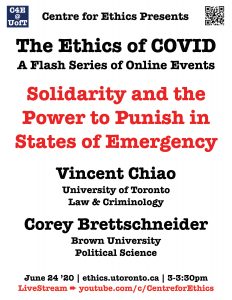 Join the Centre for Ethics for The Ethics of COVID, an interdisciplinary series of online events featuring short video takes on the ethical dimensions of the COVID crisis.
Rights, Solidarity and the Power to Punish in States of Emergency
Description: In the most urgent moments of the COVID-19 pandemic, apparently well-established discourses of individual rights collapsed immediately, with a wide array of social norms — e.g. concerning the use of public space, freedom of movement, freedom of contract and privacy — transforming almost literally overnight. Rights discourse proved ineffective, because unappealing; rights talk was replaced with calls for solidarity and deference to sweeping assertions of executive power, supplemented with formal and informal efforts to shame and punish those caught violating the new social norms. What lessons should we draw about how rights discourse functions in a theory of the modern administrative state? What is the place of punishment when in the face of disagreement about which social norms should prevail?
This is an online event. It will be live streamed on the Centre for Ethics YouTube Channel at 3pm, Wednesday, June 24. Channel subscribers will receive a notification at the start of the live stream. (For other events in the series, and to subscribe, visit YouTube.com/c/CentreforEthics.)
➡︎ please register here
Vincent Chiao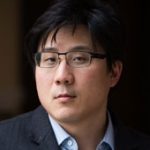 University of Toronto
Law
Corey Brettschneider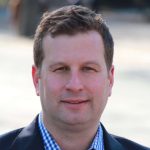 Brown University
Political Science
Wed, Jun 24, 2020
03:00 PM - 03:30 PM
Centre for Ethics, University of Toronto
200 Larkin