Ethics of COVID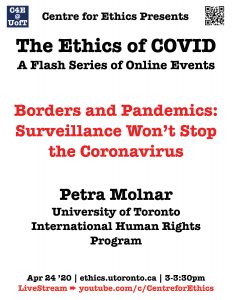 Join the Centre for Ethics for The Ethics of COVID, an interdisciplinary series of online events featuring short video takes on the ethical dimensions of the COVID crisis.
Borders and Pandemics: Surveillance Won't Stop the Coronavirus
Pandemic responses are political, just like responses to people crossing borders. As governments increasingly move toward biosurveillance to contain the spread of the pandemic, we are already seeing an increase in tracking, automated drones and other types of technologies presented as viable solutions to manage the outbreak and control migration. However, if previous use of technology is any indication, refugees and people crossing borders will be disproportionately targeted. Virus-killing robots, cellphone tracking and artificially intelligent thermal cameras can all be used against refugees and people crossing borders, with far-reaching results and impacts of various human rights.
This is an online event. It will be live streamed on the Centre for Ethics YouTube Channel at 3pm, Friday, April 24. Channel subscribers will receive a notification at the start of the live stream.
➡︎ please register here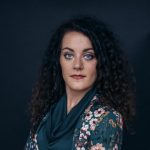 Petra Molnar
International Human Rights Program
University of Toronto
Fri, Apr 24, 2020
03:00 PM - 03:30 PM
Centre for Ethics, University of Toronto
200 Larkin