Race, Ethics + Power: Emerging Scholars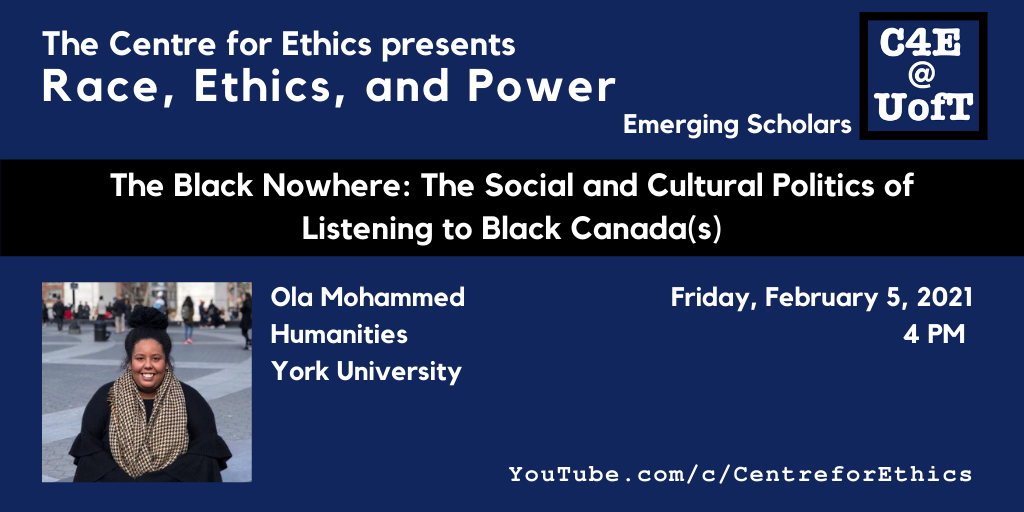 The Black Nowhere: The Social and Cultural Politics of Listening to Black Canada(s)
In "Black Like Who" cultural theorist Rinaldo Walcott suggests "settler colonies can be characterized by their struggles over race and space [and that] Canada is no exception" (43).
More specifically these troublings with race become particularly clear in discussions of the nations' contentious relation with Blackness. When it comes to Blackness in Canada national historical narratives tend to "render these racial geographies invisible, and many people continue to believe that any black presence in Canada is a recent and urban one spawned by black Caribbean, and now continental African, migration" (Walcott, 43).
As such, my work explores how listening, despite often being deemed an unmediated physical act, is "an interpretive socially constructed practice conditioned by historically contingent and culturally specific value systems riven with power relations" (Stoever 14).  I ask, what disruptive possibilities exist via sound-thinking to our most conventional ways of thinking about and engaging in historical, social and political reflection of Blackness and anti-Black racism in Canada? How can listening transform the way we think about spatiality and power by tuning into "Black absented presences" (McKittrick 22), or what I call "The Black Nowhere"—which I define as a generative space that demands a nuanced understanding of black being in Canada—in order to consider how sound and forms of hearing play a crucial role in producing and policing spaces.
Ola Mohammed (she/her) is an Assistant Professor of Black Popular Culture at York University, Toronto, Canada. Ola specializes in interdisciplinary research exploring Black cultural production, Black social life and Black being as sites of possibility. Her current project, The Black Nowhere: The Social and Cultural Politics of Listening to Black Canada(s), examines the sonic dimension of Black social life and anti-Blackness in Canada. Ola has an extensive background in student activism, and is a founding member of the York Black Graduate Students' Collective which advocated and worked to implement Black Studies/ Black Canadian Studies at York at the undergraduate and graduate level. Some of her key sites of research interests include: Black Popular Music, Black Studies, Sound Studies, Diaspora Studies, Performance Theory and Digital Culture.
► please register here
This is an online event. It will be live streamed on the Centre for Ethics YouTube Channel on Friday, February 5. Channel subscribers will receive a notification at the start of the live stream. (For other events in the series, and to subscribe, visit YouTube.com/c/CentreforEthics.)

Ola Mohammed
Humanities
York University
Fri, Feb 5, 2021
04:00 PM - 05:00 PM
Centre for Ethics, University of Toronto
200 Larkin