Ethics of AI in Context: Emerging Scholars
► To stay informed about other upcoming events at the Centre for Ethics, opportunities, and more, please sign up for our newsletter.
Automating Care, Manufacturing Crisis
Artificially intelligent agents that provide care for human beings are becoming an increasing reality globally. From disembodied therapists to robotic nurses, new technologies have been framed as a means of addressing intersecting labour shortages, demographic shifts, and economic shortfalls. However, as we race towards AI-focused solutions, we must scrutinize the challenges of automating care. This talk engages in a two-part reflection on these challenges. First, issues of building trust and rapport in such relationships will be examined through an extended case study of a chatbot intended to help individuals quit smoking. Second, the institutional rationale for favouring machine-focused solutions over human-focused ones will be questioned through the speaker's concept of crisis automation. Throughout, new equitable cybernetic relationships between those provisioning and receiving care will be platformed.
► please register here
This is an online event, available on the Centre for Ethics YouTube Channel. Channel subscribers will receive a notification at the start. (For other events in the series, and to subscribe, visit YouTube.com/c/CentreforEthics.)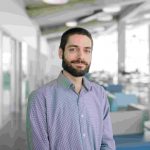 Mathew Iantorno
iSchool
University of Toronto
Wed, Oct 27, 2021
04:00 PM - 05:30 PM
Centre for Ethics, University of Toronto
200 Larkin