Ethics of COVID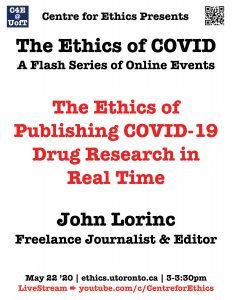 Join the Centre for Ethics for The Ethics of COVID, an interdisciplinary series of online events featuring short video takes on the ethical dimensions of the COVID crisis.
The Ethics of Publishing COVID-19 Drug Research in Real Time
The hype around hydroxychloroquine, an old malaria drug that has been informally used to treat COVID-19 , took off as rapidly as the virus spread. Inconclusive research about its efficacy spread from footnote to journal article, and finally to social media, pitched first by Elon Musk and later Donald Trump. The hype died down just as rapidly, partly due to overdose deaths but also because the Trump twitter circus moved on. Yet an abundance of serious medical research into hydroxychloroquine is ongoing, and will produce conclusive results later this year. John Lorinc will discuss his reporting about how the run on hydroxychloroquine backfired on legacy patients, exposed profound supply chain problems, and raised questions about the ethics of publishing, and then posting online, highly preliminary research results from small sample studies.
This is an online event. It will be live streamed on the Centre for Ethics YouTube Channel at 3pm, Friday, May 22. Channel subscribers will receive a notification at the start of the live stream.
➨ please register here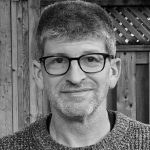 John Lorinc
John Lorinc is a Toronto journalist and editor. He writes about urban affairs, politics, business and technology for national and local media, including The Globe and Mail, Maclean's, Toronto Star and Walrus. He is a senior editor of Spacing Magazine and the Toronto non-fiction editor for Coach House Books, which has published five anthologies he's co-edited, including The Ward. For 2019-2020, John holds the Atkinson Fellowship in Public Policy, and is researching the governance of smart city technologies.
Fri, May 22, 2020
03:00 PM - 03:30 PM
Centre for Ethics, University of Toronto
200 Larkin