Ethics of COVID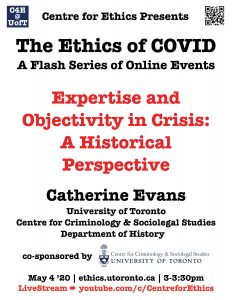 Join the Centre for Ethics for The Ethics of COVID, an interdisciplinary series of online events featuring short video takes on the ethical dimensions of the COVID crisis.
Expertise and Objectivity in Crisis: A Historical Perspective
In recent years, scholars and commentators have decried what some have seen as the decline of the expert. Dismissed as stooges of the liberal elite or as peddlers of 'fake news', doctors, scientists, epidemiologists, psychologist and others, including historians, have criticized the public and government officials for privileging common sense over deep learning. COVID-19 has thrown these debates over expertise and authority into sharp relief. Politicians in Canada and elsewhere now look to science, and scientists, to guide us. As they do, they often hail science as apolitical, pledging to proceed only as, and when, public health authorities recommend. But is science ever 'objective'? If it isn't, should we care? Here, I offer some thoughts on the history of expertise, objectivity, and authority, and how a historical perspective can help us to approach ethical decision-making in turbulent times.
This is an online event. It will be live streamed on the Centre for Ethics YouTube Channel at 3pm, Monday, May 4. Channel subscribers will receive a notification at the start of the live stream.
➨ please register here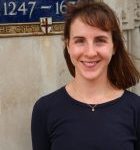 Catherine Evans
University of Toronto
Centre for Criminology & Sociolegal Studies
Department of History

in conversation with:
Rebecca Woods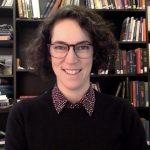 Institute for the History & Philosophy of
Science & Technology
co-sponsored by:


Mon, May 4, 2020
03:00 PM - 03:30 PM
Centre for Ethics, University of Toronto
200 Larkin