Ethics of COVID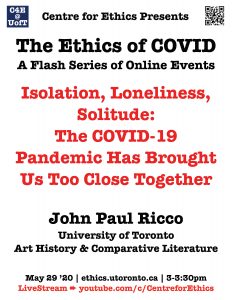 Join the Centre for Ethics for The Ethics of COVID, an interdisciplinary series of online events featuring short video takes on the ethical dimensions of the COVID crisis.
Isolation, Loneliness, Solitude: The COVID-19 Pandemic Has Brought Us Too Close Together
In this brief talk I discuss how distance is the spacing of the ethical, isolation is the evacuation of that space, loneliness is the deprivation of the self, and solitude is what we need to reclaim as the only means by which an ethical sense of the common might take place. Drawing upon the work of Arendt, Agamben, Blanchot, and Foucault, I proceed to explicate how it is that the COVID-19 pandemic has actually brought us too close together.
This is an online event. It will be live streamed on the Centre for Ethics YouTube Channel at 3pm, Friday, May 29. Channel subscribers will receive a notification at the start of the live stream.
➨ please register here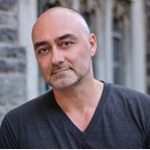 John Paul Ricco
University of Toronto
Art History &
Centre for Comparative Literature
Fri, May 29, 2020
03:00 PM - 03:30 PM
Centre for Ethics, University of Toronto
200 Larkin