Conferences, Ethics of AI in Context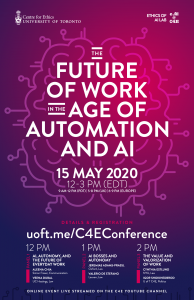 The Future of Work in the Age of Automation and AI
This international and interdisciplinary workshop, spanning nine timezones, is designed to explore the implications and complications that automation and AI have introduced into the work-leisure matrix, by considering possible futures of work that have been framed in terms of ideas and proposals such as post-work, the distribution of care-work, and the implementation of a universal basic income. The workshop aims to take a broad approach to its subject matter, by including a wide spectrum of disciplinary perspectives, ranging from moral and political philosophy to law and political economy. Workshop proceedings will appear as a symposium in the Centre's open-access journal.
➨ please register here
Schedule
12pm [= 9am Pacific/5pm UK/6pm Central Europe]
Panel 1: AI, Autonomy, and the Future of Everyday Work
Aleena Chia (Simon Fraser, Communication), Self-making and Game-making in the Future of Work
Veena Dubal (UC Hastings, Law), The Time Politics of Digital Piecework
1pm [= 10am/6pm/7pm]
Panel 2: AI Bosses and Autonomy
Jeremias Adams-Prassl (Oxford, Law), When Your Boss Comes Home: Three Fault Lines for the Future of Work in the Age of Automation, AI, and COVID-19
Valerio de Stefano (Leuven, Law), Algorithmic Bosses and How to Tame Them
2pm [= 11am/7pm/8pm]
Panel 3: The Value and Valorization of Work
Cynthia Estlund (NYU, Law), Why Work Is a Social Good and Freedom Is Overrated
Igor Shoikhedbrod (U of T C4E, Politics), Revaluing and Re-Politicizing the Future of Work in the Age of Automation and AI
This is an online event. It will be live streamed on the Centre for Ethics YouTube Channel at 12pm, Friday, May 15 [= 9am Pacific/5pm UK/6pm Central Europe]. Channel subscribers will receive a notification at the start of the live stream.
Fri, May 15, 2020
12:00 PM - 03:00 PM
Centre for Ethics, University of Toronto