Perspectives on Ethics, Science|Ethics|Tech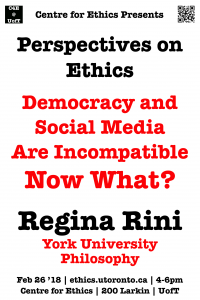 Democracy and Social Media Are Incompatible: Now What?
It takes time for the norms of democratic debate to adjust to new technologies – in some cases, too much time. In parts of Europe in the 1920s and 30s, change brought on by the new technology of radio outran democratic adaptation. I will argue that we are now at a similar inflection point with social media. Healthy democratic debate requires that we view fellow citizens as typically sincere and thoughtful when they express disagreement. I identify several features of social media discourse that have rapidly undermined this presumption and weakened the authority of democratic norms. What can be done about these shifts? I will argue that state and consumer solutions are unlikely to work. Our best hope is for social media platforms to create infrastructure enabling citizens to detect insincerity and carelessness in discourse.
Regina Rini
York University
Philosophy
Mon, Feb 26, 2018
04:00 PM - 06:00 PM
Centre for Ethics, University of Toronto
200 Larkin