Public Issues Forum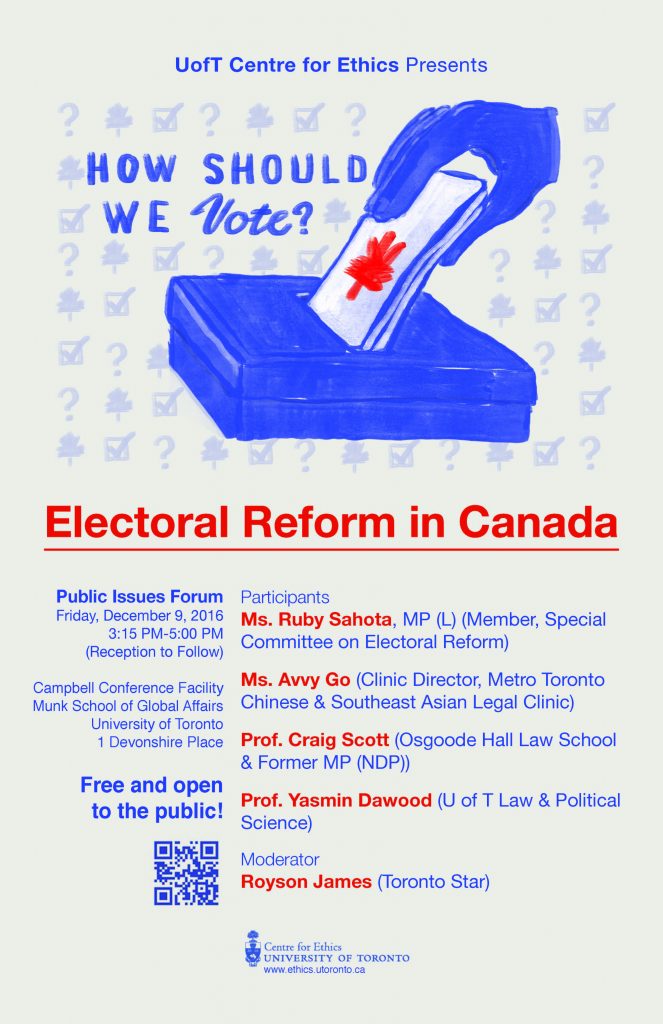 A distinguished and diverse panel of policymakers, community representatives, and academics, including a member of the committee, discussed the implications of electoral reform for Canadian democracy in action at a U of T Centre for Ethics Public Issues Forum on Friday, Dec. 9, 2016, at 3:15 pm, at Vivian & David Campbell Conference Facility, Munk School of Global Affairs, 1 Devonshire Place.
See the event's eVideos and its eForum for an accompanying mini-symposium.
On December 1, 2016, the 12-member Special Committee on Electoral Reform released its final report. The parliamentary committee was charged with exploring alternatives to Canada's first-past-the-post voting system, and to examine mandatory voting and online voting. How do the specific issues explored by the committee connect to more basic concerns about fairness, legitimacy, representativeness, constitutionalism, and ethics at all levels of Canadian politics? What ails Canadian democracy? Is electoral reform necessary, or sufficient, to address these concerns? What lessons, if any, does the recent U.S. election hold for Canadian electoral reform? 
Participants
Ms. Ruby Sahota, MP (L) Brampton-North (Member, Special Committee on Electoral Reform)
Ms. Avvy Go, OOnt (Clinic Director, Metro Toronto Chinese & Southeast Asian Legal Clinic; Member, Community Council, Ontario Law Commission)
Professor Craig Scott (Osgoode Hall Law School & former MP (NDP) Toronto-Danforth)
Professor Yasmin Dawood (Canada Research Chair in Democracy, Constitutionalism, and Electoral Law, University of Toronto Law Faculty)
Moderator
Royson James (Toronto Star)
Fri, Dec 9, 2016
03:15 PM - 05:00 PM
Vivian and David Campbell Conference Facility
1 Devonshire Place